A Walk on the Premises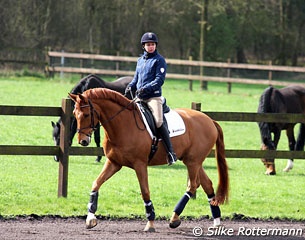 Since the 1980's Monica Theodorescu's name has listed firmly on German junior, young rider and Grand Prix senior teams. Stepping into the footsteps of her legendary parents George and Inge Theodorescu, Monica is one of Germany's most prominent dressage riders despite her demure and reserved composure.
After having been the reserve on the German Olympic Team in 2008, Monica and Ann Kathrin Linsenhoff's Whisper are giving it another go this year in the Olympic race. More than time to send out Silke Rottermann to pay Monica a visit at her charming farm in Sassenberg, Germany:
On Wednesday three days after Easter I drive from my Warendorf base ten minutes before eight am to nearby Füchtorf, where Germany's three times Olympic team champion Monica Theodorescu continues to run her late parents' Lindenhof Stud as a professional dressage stable.
When Monica gave me the address 2 weeks earlier she offered to give me a detailed description of how to find her barn, but I was sure my GPS would safely show me the way....Oh well, never completely rely on technique! My GPS claims that the house number is non-existant, so all I can do is drive on looking for the barn. Easier said than done, because Füchtorf may be a small village, but in it one barn follows the other.
After having excluded a small barn and one big jumping property, a well known glazed indoor arena comes in sight. Last autumn during the Bundeschampionate I passed it daily back and forth to my hotel. Of course! A lovely dressage arena in front of it: this has to be Lindenhof Stud! I am far too fast to get the entrance safely, but stupidly I pull the wheel to the right. My car is literally standing on two tyres, brakes and safety systems working hard to keep me on track. Phew, what a stormy beginning of my visit! I park the car next to the iron door. "Lindenhof Stud" a small metal plate says. I push the button of the bell and hope somebody hears me.
Immediately a man with a baseball cap and an Aachen jacket opens the gate and welcomes me with the words: "Hello! Have you found us without problems? I am Monica's husband," says Burkhard Ernst.
Renaissance Crown-Princess

I quickly take a look around after entering the property. To the left there's a typical stable like you find it in Ireland or Great Britain, with a row of single loose boxes, but no stable corridor. The doors are painted green and the wood panels look quite new. Burkhard Ernst tells me that currently they have started renovating parts of the property. These 10 boxes once homed the thoroughbreds of veterinarian Dr. Löwe who owned Lindenhof Stud until the mid 1970s and "are a now serving as our so called summer-stable. Some of our horses will move in soon."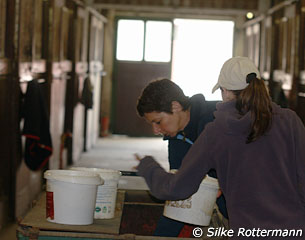 Opposite the entrance door there's the main house where Monica's parents used to live, guarded by Luna, Monica's Rottweiler which runs free in the night, taking care that no intruder enters the property without permission. On duty Luna isn't too happy seeing me, while Terry, Monica's 9-year-old Foxterrier bitch, welcomes me friendly, tail wagging and tongue lolling. On the right lies the older stable complex where the late Inge Theodorescu's bully bitch Frou-Frou sunbathes outside and doesn't take any notice of me.
Ernst takes me to the main stable builing in which on the left a long corridor of stalls are. The first stall is occupied by Monica's former Grand Prix horse Renaissance, a black Westfalian mare by Ramiro's Son. "Resi" always remembered me a bit of Ganimedes. She is 24 now and waiting to be taken out in the field.
It's not too bright inside, but it takes less than a second and I recognise the shining white creature standing relaxed while being groomed: Balagur! Alexandra Korelova's legendary Orlov trotter who was trained by George Theodorescu for years and who had a very special bond with him. The grey star now spends his well deserved retirement with Monica. "Balagur," I promptly cry like a little child and Mr. Ernst starts to grin. He like the Swiss working student grooming this snow- white professor seem to be used to such outbreaks of exhilaration when it comes to Balagur.
We leave this stable corridor and to the right is the tack-room. To the left there are three stalls and in one of them Monica's top-horse, the Württemberger gelding Whisper, is residing. He looks friendly and with interest at us when I take a step closer. He seems to be a very calm self-content horse, resting in himself. Monica confirms that later on: "He is always like that, also at a show. He loves to sleep and doesn't mind it whether it is at a show, he just lies down and takes naps. Sometimes my groom plaits him while he sleeps."
Ernst takes me to the big indoor arena attached to the old, smaller one only used for lunging or breaking in the youngsters. In the big bright Olympic size indoor Monica works a super-chic black mare. She reminds me strongly of Renaissance, but I surpress asking if they are relatives since I think it might sound stupid to see similarities between her horses.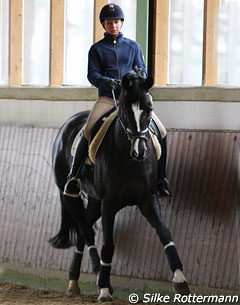 The black mare with the irregular blaze and the diva eyes snorts and takes a long stare at my red camera bag. Monica's husband leads me to the corner left of the entrance where a bank is attached to the wall, so one can sit and watch. "This had always been Monica's father's place," said Burkhard. "Here he sat with his tea and trained. And it was always the first place Balagur would head to each morning to collect his lump of sugar from George. But the first morning after he had died Balagur entered the indoor, not even looking for the corner. As if he knew George wasn't there anymore."
Now we are taking a place here, watching Take It Easy, who doesn't really live up to her name today. Monica halts her and welcomes me, introducing me to her horse."She is 8 years old and out of my old Grand Prix horse Renaissance and sired by the Trakehner Tuareg, the father of Renaissance Fleur." Yep, I was right! What I didn't know then was that six of Monica's own horses are all out of Renaissance!
Take it easy is much what a dressage rider is looking for: beautiful, expressive and with excellent basic gaits. The mare works in a snaffle and shows wonderful lateral work, but is still a bit "on the eye" like the dressage riders use to say. "She is a very sensitive horse, but we take our time. We never rush the horses. Easy already knows a lot, but I just feel she needs some more time to settle down. So even though she's 8 I have only started her at some local shows around to get her used to the show atmosphere."
While Monica finishes the session on the four-legged beauty Terry trundles in, limping a bit and looking for affection. "What have you done, Terry?," Burkhard Ernst asks the cute faithful looking Fox whom he had given Monica as a gift several years ago. But off she is, following Monica and her horse back to the stable. Monica untacks her mare in front of Whisper's box while a groom takes off the bandages and puts her under the solarium to the right.
I take notice of how thoroughly and passionately this young girl takes care of Take it easy. Monica smiles. "Oh yes, that's right. This girl came from the "Fördercentrum Mensch&Pferd" where disabled persons can do an apprenticeship as groom. My mother was very engaged and always supported this institution."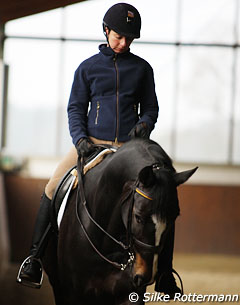 Her non-riding husband who usually works the whole day, has his last day of holidays today. I see him crossing the beautifully designed courtyard which had been recently plastered with a rondell framed by trees. Another groom is leading one of the approximately 15 horses around this rondell for some walking exercise.
Ernst is kind enough to bring me my beloved black tea and hands me the cup which I gratefully accept. It is still cold and clammy this morning with no sunshine in sight. I don't mind too much as Monica continues her programme in the indoor arena. While I follow her and Renaissance's very first foal, Tattoo, Burkhard tells me a bit about the concept which Monica's parents had once established.
"We don't have a horse-walker. When Monica's parents bought Lindenhof Stud in 1975 there was one existing, you still see the building next to the main house. But ever since it was used as a garage for the cars! We think it is important that the horses have as much contact with us as possible. They are exercised in the morning, hand-walked in the afternoon and over summer also hand-grazed. We still have no automatic troughs and offer water to the horses several times a day. Look, here next to the solarium are always two buckets with water. The horses know it and use it automatically after work."
Tattoo Making an Impression

Monica is already sitting on Tattoo, who is a now 9 years old. The Westfalian gelding has exactly the same pedigree as Take it easy. I like this horse-type straight away. The dark bay is bigger framed and taller than the petite mare before. His left eye has some white in it which gives him a very special look.
Monica has put a double bridle on and walks him first with given reins. While she is still walking around Balagur enters his 'living-room'" with Swiss working student Camille in the saddle. The young woman from Geneva has her own Sandro Hit- offspring with her, but is also allowed to learn from Balagur under Monica's watchful eyes.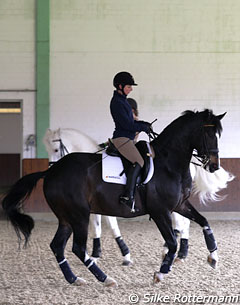 Balagur is such an old pro! He immediately discovers my camera, heads there, ears pricked and shining. What a showman this horse has been and continues to be. Would he miss the big spotlights that were so often on him? At 22 the Orlov trotter still looks fit and well. Of course he has lost muscle bulk as he isn't worked like when he was actively competing, but his movements are as smooth as ever and he looks sound as a bell.
Monica talks to me while she continues walking Tattoo, nicknamed 'Theo'. "Balagur is really exceptional. After he was retired three years ago his owner decided to leave him here and not take him back to Russia. The circumstances there are by far not as good as here and by leaving the horse with us he made sure Balagur gets the best retirement. We still ride him daily, he enjoys his occasional piaffes and he doesn't need any medicine," says Monica.
But now my attention is drawn from the white horse with the pony mane to Tattoo as Monica starts really working him after an extensive walking phase typical for her training. The movements are already there and only need refinement. The gelding with the nice temperament and wonderful working attitude has written Grand Prix all over him. Monica rides a lot of lateral movements before she shows me some canter-pirouettes which are very centered without loosing the even rhythm.
All of Monica's international horses are famous for their copybook pirouettes and I ask her if there's a secret behind it! "It is important that you have the horse in front of you and light in the bridle. You have to keep the clear 3-beat-rhythm when you come in. It is of uppermost importance to have the horsereally balanced in canter before you start working on pirouettes. It is very useful for example to practise serpentines in canter. Often you can see two major mistakes when riders do pirouettes: They try to ride them as small as possible and due to this the horse looses the rhythm. Or riders don't prepare this movement properly and then it looks like push and brake and the horse isn't balanced nor settled enough."
Theo not only does very good pirouettes,  the beginnings of piaffe also look really promising. I ask Monica how she teaches her horses the piaffe. "It differs from horse to horse when we start with it. With Theo we have started in hand first and then tried it under saddle." Like with his full-sister Monica also took her time with this highly promising horse, but at 9 he is now ready to compete in the big time. "I have started him in a local S-class and he has placed in the top 3 at M-dressage classes. Now he can move on a step and I intend to show him in the small tour this year."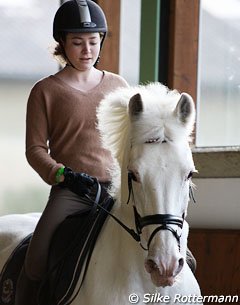 Theo not only looks different to his sister Easy, he also likes to curiously take a closer look at everything. When Monica pats him and gives him long reins for a breather he heads to me and sniffs at the lense hood of my camera. "He loves to get to know everything with his nose first. But he can also be sensitive." When I head back from the middle of the indoor arena to take a seat  in the corner a wonderful noise reaches my ears: 'Bam-bam-bam-bam'. Like the metronome in the piano lessons. I turn around and see Balagur in his most favourite movement: piaffe.
Unfortunately he is too far away to take a picture from the side, but this incredible beat sends shivers down my spine. What a horse for whom the piaffe is a fourth gait! Ernst laughs and confesses that he has never sat on a horse in his life. "I am very interested in horses and in Monica's riding, but so far I have never ridden. The last day before we will send Balagur to the fields and end his life as a riding-horse I want to sit on him and once in my life ride piaffe. Monica just has to hold the whip behind him and he starts like an automat." Secretly I wish I would be in his place and piaffe on Balagur, a dream every dressage-lover must have.
Breathing History

While Monica brings Theo back to his stall I follow her husband across the courtyard to the main house. Terry and Frou-Frou follow us, but Luna protests a bit because the intruder is not only on the property, but now even wants to enter the house.  With her muzzle on and some calming words she gives in. Burkhard leads me to a second door into an entrance hall. Left it is Inge and Georg Theodorescu's  big living-room. "We have not changed a thing since both died. It all remained untouched and we want to keep it as a place in memory of Monica's parents," he says.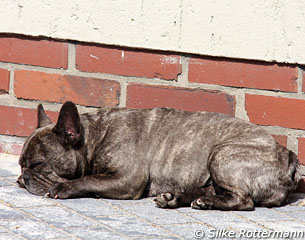 I step down into the room and look around. It is a stylish room with dark furniture, breathing history allover. To the right there's a small desk with a print of France's equestrian hero General L'Hotte hanging framed on the wall. This man stamped the ever-valid directions for training horses: "Calme, en avant, droit" (calm, forwards, straight).
I am a bit surprised finding L'Hotte outside France, but George Theodorescu was known for being a very well-read man and no doubt L'Hotte should be known by any dressage lover.
On the opposite side there is an oil-painting dated 1964 of a beautiful chestnut. I ask Ernst if this is Georg Theodorescu's 1956 Olympic horse Palatin, who had been the most noble chestnut thoroughbred. Even though he never ended in the top rankings he made an impression with his dancing expression.
Monica's husband regrets to say he doesn't really know about the horse on the painting. "You have to ask Monica later!" Monica is all over the room in framed pictures of her top horses. One of the photos shows the grey Colorado, which was her first junior rider medal winning horse at the beginning 1980s and which spent a long happy retirement on the fields at Lindenhof Stud. Of course the capital black Westfalian Ganimedes, who made her an Olympian in 1988, won her individual medals and two times the World Cup final. 'Gani' with his distinctive head was known as the horse with the purest of gaits during his time as well as for the famous Theodorescu-pirouettes which earned him 10s. Of course there is also the Hanoverian with the most beautiful colour, the liver chestnut Grunox which had silver-grey mane and tail. With him Monica could smoothly continue the success she had with Ganimedes as a member of the winnig team at the 1992 and 1996 Olympic Games.
I pick up a silver frame with a photo of the Trakehner mare Renaissance Fleur when she was younger and still looked more dapple grey than white. This horse had such a great future ahead of her very but her successful career was short-lived when she fractured her right canon bone in several places in a freak accident right before the World cup final in 2003. Mr. Ernst looks pensively: "This mare was special. We still dread the day when it happened. We immediately transported her to Telgte equine hospital which is not far. She was operated on, but of course there was no chance for her to return to the sport." I remember the story clearly and all the coverage in the media, but it is almost ten years ago and I don't think it's the place to reopen old sores, so I don't ask how the mare is doing today. Monica's esteem for the mare can be retrieved in the fact that the first three of Renaissance's foals are all by Renaissance Fleur's Trakehner sire Tuareg (by Radom).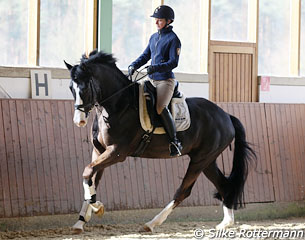 Burkhard and I return to the indoor to see the last minutes of the training of this third foal by Tuareg, Toffi. It's no co-incidence that this 6-year-old, which looks similar to his sister Take it easy, has the same name as the renowned equestrian photographer.
Monica smiles: "Yes, exactly. We named him after Jacques Toffi and he knows it."
I have no idea if Toffi has already been in front of his namesake's camera, but I use the opportunity and make some shots before Monica jumps off.
In the indoor there's still a young girl with a significantly good position in the saddle riding a liver chestnut in double bridle. I ask Monica if this is a German junior I haven't seen so far, but she shakes her head. "No, this is a girl from Australia. She has three horses and her family lives in England and they come over every month for training, always keeping a horse here I advance." Jessica Blackmore's 13-year-old gelding Don Romeo is bred in Australia and goes back to Donnerhall. Monica does not say much when she teaches her focused student who rides quite independently. Now and then she gives some advice, but she is not constantly shouting commands in a loud voice all over the place as sometimes seen. The same happens when Swiss working student Camille returns to the indoor with her Sandro Hit.
Meanwhile, Monica sits on the fourth horse this morning, a completely different type to the other ones. And true to the assumption this is Renaissance's fourth foal, but the first not by Tuareg, but by the Westfalian state stallion Fleury (by Fürst Piccolo x Rubinstein I). Fiesta is a huge chestnut mare with endless legs and a rather long back and topline.
As she is only 5 I expect a horse still showing problems to balance and sort out these long legs, but instead see a horse with an outstanding natural balance. Monica rides her in a sympathetic frame according to this horse's young age. The mare works eagerly and engaged from behind, already surprisingly well in control of her body. The friendly expression in her face never changes during her training session.
I am interested in how the Theodorescus reared Renaissance's foals. Even though there are fields, Lindenhof Stud doesn't look like the ideal place for  foals become horses. "No neither Monica nor her parents had any experiences with breeding and we never thought of keeping Renaissance here when she was due to foal. We gave her to a small breeder near Verl where the foals remained until they were three. It was the ideal place as it is on my way home from my work. I always could drop in in the afternoons to look at how they were doing. When they turn three we took them here to start working with them, first at the lunge. For breaking them in we have a very good woman who is freelancing as a bereiter and does a superb job with our young horses," Ernst explains.
Olympic Whispers

Fiesta is taken over by one of the grooms and will have a walk around the yard later on. No paddock freedom so far for the horses, except Renaissance and a Holsteiner who has an early retirement at 11 due to health problems. While Monica prepares her top horse Whisper who is already patiently waiting in front of his stall, resting a hind-leg, her husband explains to me that they are thinking about installing paddocks on the property which is in the process of being renovated step by step.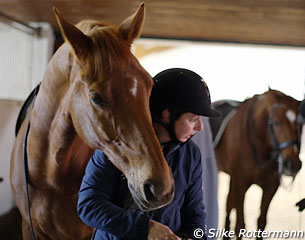 "It is not an easy topic. During the time when Monica's parents where still alive we never discussed it, the horses had been hand-walked daily instead. Now we are thinking about it, but of course the risk that something happens is there," says Burkhard.
The main stable building which is attached to the indoor arena is also in the process of being renovated. Whisper and his two neighbours already have big windows with special hard glass and no iron bars in front, allowing a lot of friendly light coming in. And friendly light indeed unexpectedly showed up. The sun started to shine.
Monica tacks up Whisper.
With some astonishment I see that Whisper's bridle has a grackle noseband attached, the one of the old type with no cheek rings and a sewed-on plate on the nose. It is rarely to be seen in a dressage stable and Monica says that this is an old bridle which she has used on many different horses passing it on from one horse to the other. "This is an old noseband by Passier. You are almost not able to find it with this construction nowadays. It has no rings on the cheeks so I position it like a flash. The plate is not removeable like with the newer grackle versions, so it rests quietly on the nasal bone. Today we canter a bit outside. He loves it, all horses love to do it regularly."
I follow Monica and Whisper outside where a groom leads old Renaissance to one of two big fields. Terry is looming behind, eager to have some fun chasing the horses in the field. Renaissance who at 24 has clear, dry legs, but a kind of "foal-belly" and a bit of a sunken back, denies her years and canters around, heels flying, head shaking. When her buddy, the retired Holsteiner, joins her, she roles in front of him and starts doing extended canter, followed by barking Terry who completely forgets her unsound leg and is reprimanded for her chasing attacks.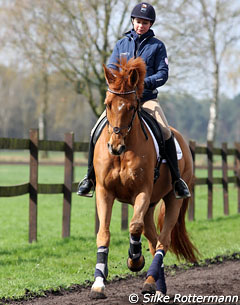 The wole scenery is observed by a totally relaxed Whisper, who stands at the edge of the outdoor arena with given reins while Monica closes her fleece-jacket. The friendly bright chestnut bred near Lake Constance doesn't bat an eyelid and instead looks back if Monica has finished so he can begin working with her.
Lindenhof Stud has two outdoor arenas. A classical 20x60 m rectangle directly behind the newer indoor arena, only separated from the country-road by bushes, and a bigger one behind. The footing looks much darker than the one of the arena, so I ask Monica who walks Whisper at the beginning. "Oh, this is no special surface, it is the natural ground we have here around Warendorf. We just ploughed it over and that's it!" How blessed are riders around Warendorf! Not only countless opportunities to ride and breed, but also a super surface for free.
I climb on the low grass wall running between ring and outdoor arena to have a better position to take photos. The picture presented to me set my heart aflutter. The two retired horses grazing peacefully in the intensely green field. Terry is exhausted from her chasing game and suns herself in the grass, lying flat-out. Whisper's gleaming chestnut coat gives a stark contrast to the dark surface and the bright green.
It suits the atmosphere that this horse trots around completely calm with swinging back in a working tempo. Monica only holds a light contact. After some time she allows the horse, that brought her back on the German team in 2007 after an 11 year long abstinence, to canter. Whisper is in complete harmony with his rider, ears pricked, tail swinging to his movements and hind-legs always extremely moving under the centre of gravity. Without a doubt he enjoys his exercise.
I love watching both like that, but of course I think of the attractiveness of my photos and hope Monica shows some Grand Prix movements as well. As if she could read my mind she asks Whisper to collect himself more and finally does piaffe and passage. I frankly admit that in the past years I was never too impressed by this horse's piaffe: too earthbound and lacking rhythmn. However, afer Whisper had a year off due to an injury and came back last season the horse shows an improved piaffe with more push-off the ground and in a better rhythm. Here at home Whisper makes no difference. Monica has to encourage him a bit by voice, but he piaffes with engagement and never looses the elevation with the neck at the highest point.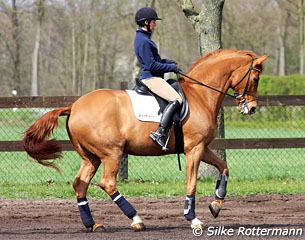 I tell Monica how nice it is to finally see a horse keeping his neck up, even in this difficult high school movements. She smiles: "Oh yes." I sadly remark that until these days I never understood why her own Ganimedes whose piaffes were very earthbound in front, but settled behind, always got much lower marks than horses just lifting their legs, but without sitting behind at all. This important lowering of the haunches show if a horse had been worked correctly and has reached this high degree of collection. Moreover if a horse in the piaffe is lowering the haunches it makes the important transition to passage much more difficult. Monica sighs and shruggs her shoulders: "Well,you have to ask the judges on that, not me. In the end they are setting the trends with their judgement," she says, hitting the nail on the head!
Whisper has done enough for today. I allow myself the remark that Whisper seems to be in top shape. Does she have a chance of another Olympics? In 2008 he was the travelling reserve who flew to Hong Kong. Monica painfully knows from own experience that it is too early to think of London. "So much can happen until then. We will see."
Too much a History

Lunchtime is approaching. Monica and her husband take me in to the kitchen where Monica's mum always cooked for everybody. "Now we have a catering service which brings lunch for our staffers. And we ourselves usually just have a quick sandwich for lunch." he dogs are getting their meaty lunch as well. Frou-Frou and Terry join us in the kitchen and poor Luna has to stay in the corridor as she still isn't very enthusiastic about my visit, even though she later ignores me. Before my visit I had asked Monica if we can also do something on Ganimedes and Grunox for the Greatest Oldies and an extensive portrayal of each of her parents.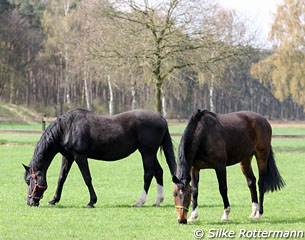 Now when we are back in the living-room I sense that it was crazy to think we would manage all that in one afternoon. Monica pulls the old photo books from the shelves. "My mother had always taken care of that all is chronicled." I look at the tidily inscribed black and white photographs: Monica's mother Inge (née Fellgiebel) jumping a Derby fence in the 1950s and one with her first husband, Hans Gunther Winkler's immortal mare Halla. Suddenly I wish I could have at least two days looking at all the photo books and dig in deeper in all that fascinating history the decades Monica's parents lived and were influential as trainers and competitors.
I tell Monica about it and she agrees immediately that we do all that another time. "If you want to come back you are welcomed to do so. You can look at all the books and scan the pictures you later need for your articles." I am happy that Monica intends to support the Greatest Oldies research and work and I am looking forward to this new project later this year.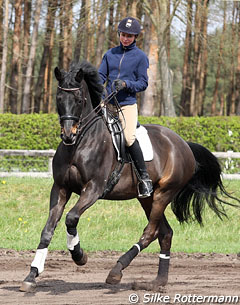 Even though Monica has reduced the amount of horses since her father's death from about 35 to a mere 20 her work isn't finished for today. Again we use the enduring sunshine to go to the outdoor arena. This time Monica sits on a different type of horse to Whisper, reminding me of one of Ivan Kalita's horses he rode in the 1970s. I am not that wrong when Monica introduces Tonic, a Ukranian warmblood with a lot of thoroughbred in his pedigree. He almost looks like a thoroughbred with his long narrow legs and silhouette.
Unlike Whisper Tonic is ridden in a double bridle and although Monica is not using the curb overly strong the horse reacts much more to the surroundings like the Württemberger before. "This horse originally came over here from Sascha Korelova via the owner of Balagur. But Sascha got pregnant and returned to Russia. Tonic stayed with me because we have better opportunities to start and promote a horse here than in Russia."
Tonic is an elegant mover with an uphill cadenced canter and outstanding lateral work and you will never see his neck drop down like one can observe in too many international horses. Only his trot lacks what is so fashionable for years now: the infamously flying frontleg. "He is quite advanced and I intend starting him in the Louisdor Cup for young Grand Prix horses."
A Rocket to End the Day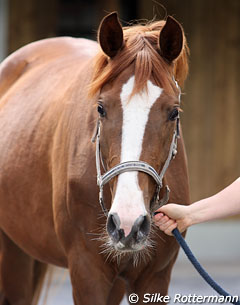 It is late afternoon now and the pressure is on me because in 60 minutes I should be at Ruth Klimke's near Münster. I never expected Monica to spend so much time with me for this  Walk and feel sorry that she had turned down all her lessons for me and now I am busier than she assumed. I still have some minutes to watch the youngest of Renaissance's legacy, a 3-year-old chestnut mare nicknamed Rakete (Rocket), by Fineliner, a Florencio-son.
The tiny lady has earned her doubtful nickname because of her exuberant temperament. "When she got her first vaccination as a foal she went into the air like a rocket. Since then we call her like that, but so far she has no official name," Monica tells me. Rakete circles around Monica without any sidereins, bucks a bit, accelerates now and then and enjoys the whole thing. She is at very beginning of hopefully a long way. A way so many of her predecessors went through the past decades.
Since the 1950s the name Theodorescu is eternally linked to some of Germany's best dressage horses ever. Monica and her home-bred horses have to guts to follow in these hoofprints and may they be big.
Text and Photos © Silke Rottermann for Eurodressage
Related Links
Georg Theodorescu Passed Away
Inge Theodorescu Passed Away
Monica Theodorescu Clinics for French FEI Riders
Balagur, an Orlov Trotter in the Olympic Dressage Arena