2012 Bundeschampionate Qualifier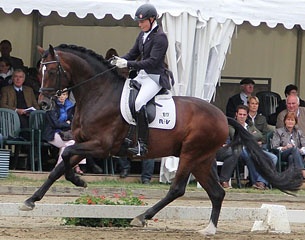 The 5-year olds Revolverheld and San Francesco and the 6-year old Earl of Nymphenburg were the big winners at the first Bundeschampionate qualifier of the season held in Bremen, Germany, on 28 April 2012. The 5-year old division was split into two groups and a total of seven horses achieved the necessary qualification score of 8.0 or higher to compete at the Bundeschampionate in Warendorf in September.
Group 1 of the 5-year old division was won by Ann Christin Wienkamp aboard the Westfalian Revolverheld (by Rockwell x Landstreicher). The chunky bay stallion, which is the full brother to Rock Forever) received an 8.8 score from judges Böckmann and Hinsch and outclassed all competition. Marco Bührig and the Hanoverian mare Riva del Garda M (by Rotspon x De Niro) were second with 8.1, closely followed by Norwegian Isabel Bache on the Swedish owned Bobcat (by Breitling x Silvano) with 8.0.
In group 2 of the 5-year olds Thomas Szestopalow and the Oldenburg black stallion San Francesco (by San Remo x Frenchman) ruled the roost with their winning 8.3 score. Anke Simon and Lamborghini were the runners up with 8.1, while German B2-team Grand Prix rider Carola Koppelmann was third aboard Sandiego (by Sancisco) with 8.0.
In the 6-year old division only one horse was able to obtain the qualification score for Warendorf. Winner Tessa Frank steered Helmut von Fircks' Westfalian gelding Earl of Nymphenburg (by Ehrentusch x Ribot) to victory with an 8.1 score. German based Canadian Leonie Bramall finished second on the Hanoverian Richthofen (by Royal Blend x Wolkentanz) with 7.7. Katrin Burger and the Oldenburg bred Fifth Avenue (by Florencio x Dormello) were third with 7.6.
Photo © LL-foto.de
Results - Bremen Bundeschampionate Qualifier

5-year olds - Group 1
Judges: Böckmann, Hinsch
1. Revolverheld - Wienkamp,Ann-Christin - 8.8
2. Riva del Garda M - Bührig,Marco  - 8.1
3. Bobcat  - Bache,Isabel - 8.0
4. DJ Nymphenburg - Frank,Tessa - 7.7
5. Hogan B - Bremer,Jan-Eric - 7.5
6. Dissertation - Boening Dr.,Ilka - 7.4
7. Diamo Gold OLD - Haßler,Laura - 7.3
7. Don Darius - Habermann,Mike - 7.3
7. Silbermond - Hartmann-Stommel,Wibke - 7.3
10. Diego en suerte MT - Homuth,Andreas - 7.2
11. Solveigh  - Alkenings,Katrin  - 7.1
11. Fullsister - Kötter,Sandra - 7.1
11. Eisprinz von Nymphenburg - Fircks,Johanna von - 7.1
11. Diamond Song - Burger,Katrin  - 7.1
15. Royal Grey Horse - Runge,Birte - 7.0
15. Däumeling  - Plaster,Nadine  - 7.0
15. Sisto - Kubelke,Jörn  - 7.0
18. Rouge Fleurie - Katenkamp,Benita  - 6.9
18. Fleuraison  - Gerdes,Marilena  - 6.9
18. De Jong - Tietze,Janina  - 6.9
21. Leocadio - Stegemann,Lena  - 6.8
22. Shakira E - Mimberg,Mareike  - 6.7
22. Santo - Thomas,Raphael  - 6.7
24. Duke Ellington - Habermann,Mike - 6.6
25. PAV Strahlemann - Heemsoth,Greta  - 6.5
26. Formidable - Bremer,Jan-Eric  - 6.4
5-year olds - Group 2
1. San Francesco  - Szestopalow,Thomas  - 8.3
2. Lamborghini  - Simon,Anke   - 8.1
3. Sandiego - Koppelmann,Carola - 8.0
4. Lord Poinsettie KHR - Schrader,Klaus - 7.7
5. Sir Cedric  - Slüter,Annika  - 7.5
6. Bogegardens Boney M - Blomgren,Anna  - 7.4
6-year olds
1. Earl of Nymphenburg  - Frank,Tessa  - 8.1
2. Richthofen  - Bramall,Leonie  - 7.7
3. Fifth Avenue  - Burger,Katrin  - 7.6
3. Dream of Nymphenburg  - Fircks,Johanna von  - 7.6
5. Apassionata  - Müller-Kersten,Andrea  - 7.5
6. Willis  - Schoka,Anja  - 7.4
6. Babylon  - Koppelmann,Carola   - 7.4
6. Jever Fun  - Bücker,Dominic  - 7.4
9. Stern von Nymphenburg - Frank,Tessa - 7.3
9. Della Cortina - Schrandt,Angela  - 7.3
11. Fabelhafte - Heuer,Swantje  - 7.1
11. Seneca - Egbers,Sabine  - 7.1
11. Donaldson - Platen,Maxi Kira von - 7.1
14. Woodlander Wavavoom  - Pape,Susan - 6.8
15. Danzarina Negra  - Friederich,Ina  - 6.6
16. Salomon - Waaden,Friederike von - 6.4
16. Shadow's Dream  - Wahlers,Eckhard - 6.4
18. Ricocello - Stöver,Dominique  - 5.9
D'Armani - Husenbeth,Klaus - RET
Back to the 2012 Bundeschampionate Index