2012 Dutch Indoor Pony Championships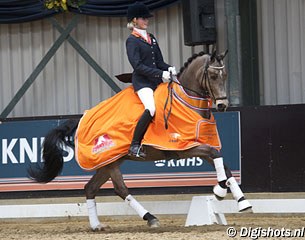 Sanne Vos and her German Riding Pony gelding Champ of Class won the 2012 Dutch Indoor Pony Championships at FEI pony level, dominating the Z2-level category D/E class with a score of 69.79% on Saturday morning 31 March 2012. Twenty combinations gathered at the equestrian stable IJsselruiters in Brummen, The Netherlands, for the final indoor championship before the kick-off of the 2012 outdoor show season.
The FEI pony level championships were judged by Mr G. Hoeijmakers, Mrs M. de Wolf and Mr. J. van der Harst. Vos and her 8-year old buckskin Champ of Class (by Champion de Luxe) have been dominating the Dutch Pony scene winning every single FEI Pony Cup qualifier this winter and she was the hot favourite for the national indoor title.
Trained by Marlies van Baalen, Vos lived up to the expectations and scored 69.79, just short of the 70% barrier which she usually breaches at competitions. Her winning score still kept her miles ahead of the rest of the competition.
"To my feeling I rode a strong test in which nothing went wrong," Sanne Vos commented. "The simple changes were impeccable and in trot we showed strong movements. I might have lost a few points in the turns on the haunches. I stayed below 70% but I think it was because the judges weren't scoring highly. I was pleasantly surprised to have won with a 3% lead."
The silver and reserve champion's title went to Rosalie Bos on the Dutch bred Paso Double (by Bodo). She scored 66.33% which sufficed to become the runner-up. The 15-year old Bos was impressed by her very green FEI pony which is only 6 years old.
"My pony felt great in the warm up but there was some tension in the test. That's why Paso Double break into canter in the trot extension, which is normally one of his strong points," Bos explained. "It cost points but the rest of the trot work went really well, just like the canter. One simple change could have been a bit better. I was hoping for bronze, so I'm very happy with silver."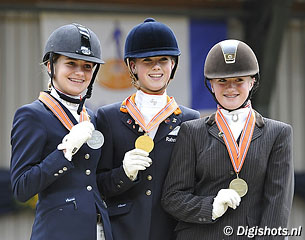 The Sint-Willebrod based Lisanne Zoutendijk and her 18-year old schoolmaster Amaretto (by Alfred) ended up with 65.92%, which landed her the bronze medal. For the 13-year old Lisanne it was the highlight in her pony career so far.
"We really trained on improving the half passes and extensions leading up to this championship," Zoutendijk commented. "I really have the feeling we improved on them. Also the rein back was text book, but we lost some points in the 8 meter voltes. I rode them too big in canter, so that's what we need to work on. We also need to work on the collection. That's what's so fun about riding championships. You really find out afterwards what the issues are you and your pony need to work on."
The experienced Febe van Zwambagt, who is a strong contender for a spot on the Dutch team for the 2012 European Pony Championships, struggled to hit the high marks with her bay stallion Dr. Watson (by Don't Worry). Her scores got stuck on 65.04% which put her in fourth place. Remarkably Jelle Peeters and Den Ostriks Dailan (by Leuns Veld Lord), who have been the bridesmaids all season finishing second each time behind Vos, were not on greatest form and only placed fifth with an atypical 64.96%.
Quotes © KWPN.nl
Photos © Leanjo de Koster - more photos of the Dutch Indoor Pony Championships on his website
Results - 2012 Dutch Indoor Pony Championships - Brummen
Judges:
1.Sanne Vos - Champ of Class - 69.79
2. Rosalie Bos - Paso Double - 66.33
3. Lisanne Zoutendijk - Amaretto - 65.92
4. Febe van Zwambagt - Dr. Watson - 65.04
5. Jelle Peeters - Den Ostriks Dailan - 64.96
6. Mandy van den Hoek - Sir Donnerwind - 64.29
7. Lotte Meulendijks - Boticelli - 64.17
8. Demy Kurstjens - Nina van de Beekerheide - 64.00
9. Zoe de Booij - Kantje's Renaldo - 63.71
10. Daphne Vergouwen - Denver - 63.38
11. Kaylee Gouda - Dollar Girl - 62.79
12. Paulette Kral - Orchid's Borneo - 62.17
13. Kim de Jonge - Sandokan - 61.96
14. Shanna Lust - Stukhuster Orlando - 61.54
15. Joelle Peters - Geronimo B - 61.54
16. Marjan Hooge - Mr Matcho - 61.50
16. Bo Oudhof - Day of la Divinia - 61.50
18. Britt van der Panne - Ravel - 61.08
19. Melody Vroom - Balthasar - 59.96
20. Anouk Sikma - Harry - 56.29
Samantha van der Lof - Elin's Nonsisdador - DNS
Luca de Rijck - Omira - DNS
Related Links
2012 Dutch Indoor Pony Championships Rescheduled and Relocated
Michelle de Jonge, 2011 Dutch Indoor Pony Champion