2012 Ankum Dressage Club Competition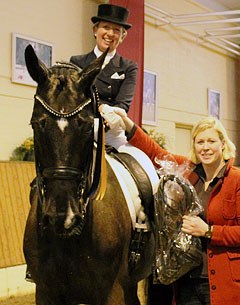 Overjoyed winners were everywhere to be seen at the concluding show weekend of the 2011-2012 Ankum Dressage Club Competition Circuit on Sunday 11 March 2012. Gabriele Rund-Köllner and Angela Sklavounous were particularly thrilled, but there were equally satisfied-looking female dressage riders left, right and centre at this final Ankum Dressage Club spring tournament. 
Right at the end of the event Rund Köllner won the Freestyle Grand Prix at the P.S.I. Auction Centre in Ankum with twelve-year-old Westfalian stallion Rossinol.  The rider took first place with 70.91 percent.  Behind her came a guest from Canada, Alexandria Lampe and De la Vega.
Grecian young rider Angela Sklavounos followed up Saturday's victory with success in the Freestyle Prix St George for amateurs.  Just as on the previous day, the young rider was riding her own horse Quanderas. And Andrea Timpe from ZRFV Hattingen, who regularly trains with Jürgen and Christoph Koschel in Hagen a.T.W., capped off her multiple successes at the Ankum Dressage Tournaments with a victory in the Intermediaire I with Weltall. 
These tournaments will continue in Autumn 2012, after the outdoor season.  The idea of having regular tournament events has gone down well in Germany!
Results Overview for the ADC Tournament
Dressage Test S*** class Freestyle Grand Prix:
1. Gabriele Rund-Köllner (RFV Handorf-Sudmühle) with Rossinal 70.91%
2. Alexandria Lampe (Canada) with De La Vega 70.83
3. Sophie Ludewig (RV Rehagen-Hamburg) with Dolcetto R..S. 70.41
4. Dr. Stefan Luczak (ZRFV Hattingen) with Delorenzo SB 68.41
5. Alina Röhricht (RFV Dortmund-Süd) with Rosselini 67.58
6. Olaf Fetzer (RFV Spelle) with Florida Queen 66.03.
Dressage Test S* class Freestyle Prix St. George for amateurs:
1. Angela Sklavounos (Greece) with Quanderas 75.33
2. Sandra Walther (RV Iserlohn) with Urban Legend 69.91
3. Mandy-Julia Mansmann (RFV Lützow Selm-Bork-Olfen) with Edward Louis B 67.91
4. Natascha Hölsey (RSG Mottenkaul) with Duke of Diamond 67.16
5. Fanni Nemeth (RSC Osnabrücker Land) with Weltrubin 64.00
6. Gabriele Pohlmann (RC Gut Keuschhof) with Ravel 63.66.
Dressage Test S* class Intermediaire I
1. Andrea Timpe (ZRFV Hattingen) with Weltall 70.08
2. Borja Carrascosa Martinez (Spain) with Ideal 68.94
3. Andrea Timpe with Don Darwin 68.33
4. Johan Zagers (Belgium) with Velono V 65.52
5. Therese Nilshagen (RSC Osnabrücker Land) with Razida 64.47
6. Claudia Dörn (RSC Osnabrücker Land) with Dorigo 64.03
Dressage Test L class, snaffle:
1. Svea Jana Wittenberg (RSC Osnabrücker Land) with World of Love 7.8
2. Lena Bollmann (RSC Osnabrücker Land) with Per Du 7.6
3. Carolin Schnarre (RSC Osnabrücker Land) with Ma Lien S 7.3
 4. Liesa Mochner (RSC Osnabrücker Land) with Fame 6.8
5. Annika Juhre (RSC Osnabrücker Land) with Fontainebleau 6.7
-- PSI Press release
Related Links
Gribbe and Farewell III On Top at the 2011 CDN Ankum
Timpe and Dixieland Kick Off Fourth 2011 Ankum Dressage Show with a Win
Ankum meets Dressage Sport: ADC Celebrates 2nd Event
It's an All Go in the Dressage arena at the Ankum Dressage Club