American Dressage News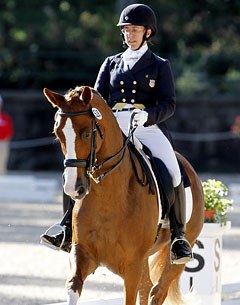 The Dressage Foundation announced that Heather Mason is the recipient of the 2012 "Carol Lavell Advanced Dressage Prize" in the amount of $25,000. The purpose of the Prize is to provide financial assistance for coaching and training to a talented, committed, qualified rider
whose plan is to reach and excel at the elite, international standards of high performance dressage.
The $25,000 Prize will be awarded to Mason during a special feature presentation at the Palm Beach Dressage Derby on Saturday, March 3, 2012. Carol Lavell, founder of the Prize Fund, will present the Prize to Mason.
Mason is based in Tewksbury, NJ, where she owns and operates Flying Change Farm and is also the head trainer of Stone Horse Farm. Heather is a USEF 'S' Judge, a Graduate H-A Pony Clubber, and has her USDF Gold, Silver and Bronze medals and Freestyle bars. She has competed successfully in prestigious competitions including the NAYRC, USEF National Intermediare I Championships, U.S. Olympic Festival, North American Freestyle Challenge, North American Dressage Championships, U.S. National Dressage Championships and the Can-Am Challenge. Most recently, Heather was named as an alternate for the Pan-Am Games on Warsteiner, who then finished the 2011 season by winning the Prix St Georges, Intermediare I and Freestyle at Dressage at Devon.
With the help of the Prize money, Heather plans to take Warsteiner to train with Lars Peterson and Alfredo Hernandez for an intensive time in 2012 and 2013, with the goal of qualifying for the 2014 World Equestrian Games.
"I am truly honored to be the recipient of the Carol Lavell Advanced Dressage Prize," said Heather. "I am excited to know the possibilities that have just been opened with the help of Carol Lavell and The Dressage Foundation. This will help me dedicate a part of the year to focus only on training, which would not be feasible without this Prize."
The Carol Lavell Advanced Dressage Prize was established at The Dressage Foundation in special remembrance of Carol's mother, May Cadwgan, and in honor of her father, Gordon Cadwgan. Due to the generosity of many donors over the past several years, the Prize fund has grown to a sizeable amount that will provide high performance funding well into the future.
Carol Lavell said, "I established this Fund at The Dressage Foundation as my way of 'giving back' to the sport that has been so good to me. I know that, for most riders, obtaining financial support becomes the ultimate hurdle. I'm so grateful to my family and loyal friends whose charitable gifts have helped me establish this Fund, and in a dollar amount that will be able to award these $25,000 Annual Prizes for many years."
Photo © Sue Stickle
Related Links
U.S. Team Concludes Training Camp for the 2011 Pan American Games
USEF Developing Dressage Clinic Series Continued at Hassler Dressage