2012 CDI-W Burbank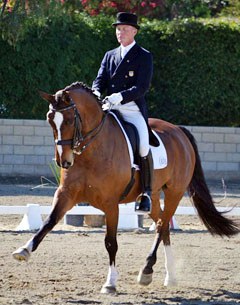 Athletes around the world who compete in sports ranging from archery to weightlifting are dreaming about the 2012 Olympic Games in London, England.  Equestrians are no exception, and the U.S. West Coast dressage riders will begin their quests for a team berth at the 2012 CDI Burbank Mid-Winter Dressage Fair CDI-W and Festival of the Horse CDI 3* competitions in California this spring.
The Mid-Winter Dressage Fair CDI-W/Y/J, scheduled for February 23 - 26 in Burbank, CA, will be the first West Coast qualifying competition for the 2012 Olympic Games Dressage Team Selection Trials, and is also one of only two California qualifiers for the 2012 World Cup Finals.
Competitors attending the Mid-Winter Dressage Fair will experience a whole new look to the Los Angeles Equestrian Center, as hi-tech and horse-friendly Olympic Mix footing has been installed in the outside large oval ring, including the warm-up area.  Regardless of weather, horses will be able to show off the best of their abilities in this soft, stable, non-slip footing, which is the same high-tech formula used at such prestigious events as the World Cup Finals and the Olympic Games.
Officiating for this High Performance competition will be Jean-Michele Roudier (5*) of France, who will serve as a member of the ground jury for this summer's Olympic Games.  Roudier will be joined by esteemed judges Linda Zang (5* USA), Cara Whitham (5* CAN), Eddy de Wolff (4* NED), Jayne Ayers (4* USA), and Brenda Minor (4* CAN).
In addition to High Performance dressage, the Mid-Winter Dressage Fair will also feature five  team challenges, adding a new element of competition and excitement for all levels of riders.  The $750 CDI Challenge and $500 Freestyle Challenge will pair riders from the CDI Grand Prix and Prix St. Georges/Intermediaire I divisions, while open show competitors will vie for additional prize money in the Pro-Am Upper Level Challenge (Third and Fourth Levels); Pro-Am Lower Level Challenge (First and Second Levels); and the All Amateur Training Level Challenge.
In an exciting development for this year's show calendar, Cornerstone Event Management is working with Blenheim EquiSport to bring their second Olympic Games qualifier, the Festival of the Horse CDI 3*/Y/J, to "The Oaks" in beautiful San Juan Capistrano on March 29 - 31.  As the site of the 2004 and 2008 U.S. Dressage Selection Trials for the Olympic Games, it was only natural for this spectacular facility to once again open its doors to North America's top dressage competitors.
Long known for its outstanding footing, "The Oaks" facility includes five sand and fiber arenas, with separate warm-up and lunging rings.  The ground jury for this event will also feature a 2012 Olympic Games judge, the USA's Gary Rockwell (5*), joined by Mary Seefried (5* AUS), Jane Weatherwax (4* USA), Lorraine MacDonald (4* CAN), and Gabriel Armando (3* ARG).  For additional excitement, the Festival of the Horse CDI will be held in conjunction with the Blenheim Spring Classic Hunter/Jumper show, featuring the $40,000 Grand Prix Jumping Event.
"I am very excited about holding the Festival of the Horse CDI 3* in San Juan Capistrano and working with the Blenheim EquiSport team," said event organizer Glenda McElroy.  "They have produced so many top hunter/jumper events that it's difficult to count them.  Now this facility, with its outstanding footing and atmosphere, will give dressage riders another option for enjoying top competition.  I see this as a tremendous  opportunity for bigger and better events,  more excitement for competitors and spectators, and exposure to a new audience.  It should be very positive for dressage."  
Related Links
Peters and Weltino's Magic Continue Success at 2011 CDI Burbank

Pavicic and Don Daquiri Sweep Inter I Kur to Music at 2011 CDI Burbank
Ebeling and Rafalca Win Grand Prix at 2011 CDI-W Burbank