Australian Dressage News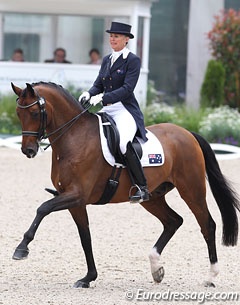 Equestrian Australia (EA) has today announced the 2012 National Squads. The "Elite" and "A" listed combinations for each discipline; Dressage, Eventing, Jumping and Para-Equestrian will form the Shadow Teams for the 2012 Olympic and Paralympic Games.
Brett Mace, Equestrian Australia's High Performance Manager, explains the composition of the Shadow Teams.  "The "Elite" listed combinations are presently the front-runners for the Olympic and Paralympic teams.  However, I am sure our "A" Squad members will make the most of every opportunity to claim a place on the team through exceptional performances in the lead up to London.
"Through the National Performance Directors and Selection panels, we will continue to monitor our combinations at major events prior to nominations being due to the Australian Paralympic Committee and the Australian Olympic Committee in May and June," he said.
EA will nominate the teams to the Australian Olympic Committee on or before the following dates; Dressage and Jumping (6 June 2012) and Eventing (18 June 2012). EA will nominate the Para-Equestrian team to Australian Paralympic Committee on 24 May 2012.
"With a mixture of experienced Olympians and Paralympians on these Shadow Teams, along with some very high quality riders looking to make their first Olympic/Paralympic team, I am confident we can justify our high expectations for medal performances in London," added Mr. Mace.
Combinations will not be listed on the EA National Squads unless they have returned their signed 'Consent to Nomination Form' to the EA office. The inclusion of some combinations is still pending this paperwork and they will be added in due course.
Combinations not currently listed may be added to the Shadow Teams in the coming months should performances warrant their inclusion.
EA National Young Rider Squads will be announced at the end of January.
Photo © Astrid Appels
2012 Dressage National Elite Squad
Rider    Horse    Owner
Chantal Wigan    Ferero    Chantal Wigan and Gary Fairman
Heath Ryan    Regardez Moi    Heath and Rozzie Ryan
Lyndal Oatley    Potifar    Andrew and Carol Oatley
Mary Hanna    Sancette    Mary and Rob Hanna
Mary Hanna    Umbro    Mary and Rob Hanna
Rachael Sanna    Jaybee Alabaster    Beverley and John Edwards
2012 Dressage National A Squad
Rider    Horse    Owner
Alexandra Berns    Kings Legend    Alexandra Berns
Brett Parbery    Lord of Loxley    Clyde Wunderwald
Brett Parbery    Good As Gold    Carolyn Lieutenant
Brett Parbery    DP Weltmeiser    Susan Duddy 
Hayley Beresford    Belissimo NRW    Zucht-u Sportpferde Schmidt GmbH
Kelly Layne    Raja    Kelly Layne
Maree Tomkinson    Diamantina    Maree Tomkinson
Matthew Dowsley     PSI De Caprio    Andrea Beatty
Rozzie Ryan     GV Bullwinkle    Olivia Bunn
2012 National Dressage Futures Squad
Rider    Horse    State
Cassia Montgomery     Rebel M     NSW
Cassia Montgomery     Fioretta     NSW
Daniella Dierks     Aber Hallo 29     NSW
Denise Rogan     Virtuel 1     NSW
Nadia Coghlan     Fiderdanz     NSW
Robbie Soster     Danora     NSW
Danielle Shearer     Riverview Cinderella     QLD
Hayley Gilbert     Dicavalli Dior     QLD
Jayden Brown     San Andreas     QLD
Nicole Tough     Flavio     QLD
Melissa Van Den Berg     Dornkaart     QLD
Tor Van Den Berg     World Royal     QLD
Tor Van Den Berg     Lady Sinatra     QLD
Angela Donaldson     Danson Destiny     SA
Heather Currie     Emporio Van De Zwarte Molen     SA
Ria Grivell     Acacia Ridge Galileo     SA
Lydia Jackson     Flashazz     TAS
Lydia Jackson     Splendido     TAS
Ruth Walker     Walden Park Columbus     TAS
Georgina Cattermole     Bellaire Cannavaro     VIC
Holly Stansfield-Smith     Diva Royale     VIC
Jenny Bray     CJP Diamon Dazzler     VIC
Lilah Nieuwland     Wajama     VIC
Sidney Hoffman     Freedom C     VIC
Tegan Huitson     Heatherton Park Fame     VIC
Colin Chantler     Bonita     WA
Deon Stokes     Royal Oak II     WA
Sally Rose Mayall     Hollingrove Sunburst     WA
Related Links
Australia and New Zealand Qualify for 2012 Olympic Dressage
Australian Team Named for 2011 Dressage Olympic Qualifier