2011-2012 KNHS FEI Pony Cup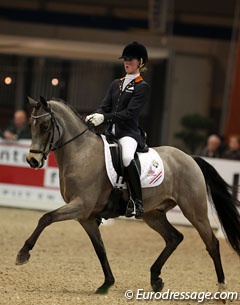 Sanne Vos continued her string of success by winning the 2011-2012 KNHS FEI Pony Cup qualifier held at the Harmelen equestrian centre  in Harmelen, The Netherlands, on 14 January 2012. After having won the first leg of the 2011-2012 KNHS FEI Pony Cup as well as two international pony classes at the 2012 CDI Drachten last week, Vos added yet another trophy to her cabinet.
Aboard the 8-year old German Riding Pony gelding Champ of Class (by Champion de Luxe), Vos scored 71.79% to edge out Jelle Peeters on the Welsh pony gelding Den Ostriks Dailan (by Leuns Veld Lord), who finished second with 71.41%.
"Champ of Class and his steady rider showed a nice test in which Sanne rode with much concentration," said Sanne's trainer Coby van Baalen. "Champ thought the arena was quite exciting, but Sanne showed that she's very experienced in riding tests."
Lotte Meulendijks and the chunky bay Boticelli (by Brillant) were on good form and finished third with 69.87% followed by the rising combination Demy Kurstjens on the cute chestnut Ciske van de Beekerheide (by Composer van de Beekerheide). Floor van Manen and the Dutch bred Divano du Bois (by Dornik B) completed the top five with her 67.61% score.
The Harmelen FEI Pony Cup qualifier was judged by Den Hartog, Drohm and Beijer.
Photo © Astrid Appels
Results - 2012 KNHS FEI Pony Cup Qualifier - Harmelen
1. Sanne Vos - Champ Of Class - 71,79
2. Jelle Peeters - Den Ostriks Dailan - 71,41
3. Lotte Meulendijks - Boticelli - 69,87
4. Demy Kurstjens - Ciske Van De Beekerheide - 69,06
5. Floor van Manen - Divano Du Bois - 67,61
6. Jelle Peeters - Nandor - 67,39
7. Fleur Hofstra - Duesmann  - 65,85
7. Marjan Hooge - Diamond's Are Forever - 65,85
9. Demy Kurstjens - Nina Van De Beekerheide - 65,81
10. Robin Bernoski - Keulse Hoeve's Zico - 65,51
11. Lisanne Zoutendijk - Amaretto - 65,38
12. Laurie Vervoort - Westerhuis Bruno - 64,83
13. Patricia Bielefeld - Tunja's Eduard - 64,79
14. Mandy van den Hoek - Sir Donnerwind - 64,62
15. Kaylee Gouda - Dollar Girl - 64,32
15. Joelle Peters - Geronimo B -  64,32
17. Karlijn Geelkerken - Molenhorn's Rico -  64,15
18. Zoe de Booij - Kantje's Renaldo B B. -. 64,1
19. Dominique Marijnissen - Oldebert's High Speed -  63,85
20. Mercedes Verwey - Excellent Diablo - 63,63
20. Laurie Vervoort - Leliebelle B- 63,63
22. Rachell Fokker - Majos Cannon - 63,25
23. Lisanne Zoutendijk - Oosteind's Rocco - 62,99
24. Britt van der Panne - Ravel - 62,91
25. Paulette Kral - Orchid's Borneo - 62,86
26. Shanna Lust - Stukhuster Orlando - 62,82
27. Shanae Vermast - Hulstkamp's Clarissa - 62,74
28. Melody Vroom - Balthasar - 62,69
29. Reece Fokker - Hogewald's Naziri -  62,52
30. Demi Conemans - Poseidon B -  62,44
31. Lisa van der Hulst - Kulberg's Lancelot -  62,18
32. Marjan Hooge - Mr Matcho - 61,62
33. Aurora van der Laarscho- Ysselvliedt's Mathador - 61,41
34. Cato Hemels - Rubels Junior - 60,6
35. Michelle van Berkum - Orchid'latyssa -  60,47
36. Celine Jeurissen - Bolheim's Karel -  60,38
37. Angret Bruil - Bouwershof Vivaldi - 60,3
38. Guusje van Heeswijk - Amigo - 60,17
39. Shanna Lust - Anjershof's Pablo -  59,53
40. Kim de Jonge - Sandokan - 59,4
Related Links
Sanne Vos Leads the Pack at First Leg of 2011-2012 KNHS FEI Pony Cup
Vos and Peeters In the Limelight at 2012 CDI-P Drachten