Danish Warmblood Breeding News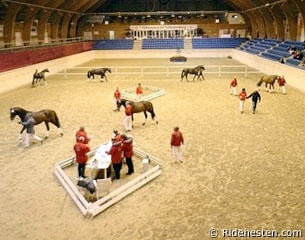 After two inspection days on 5 - 6 January 2012, the Danish Warmblood stallion selection committee picked twenty young dressage colts which  move on to the 2012 Danish Warmblood Stallion Licensing in Herning in March 2012.
Thirty colts were presented on the first viewing day held at Stallion Station Katrinelund on Thursday 5 January 2012 and six dressage colts received a positive verdict from the committee. The committee gave a green card to:
Commander HS (by Come Back II x Lordship) - Breeder/Owner: Helle Hautopp & Kristian Svenningsen
Frydendal's Quito (by Quaterback x Hohenstein) - Breeder: Heidi Sørensen - Owner: Birgith Thomasen & Kirsten Rasmussen
Quitaro (by Quaterback x Sam Sam) - Breeder/Owner: Lisbeth B. Andersen
Betacci (by Temptation x Weltjunge) - Breeder: Richard Nielsen & Ib Kirk - Owner: Ib Kirk
Touché (by Tuschinski x Solos Landtinus) - Breeder/Owner: Lisbeth B. Andersen
Almost 40 colts were presented at the second viewing day held at the national equestrian centre in Vilhelmsborg on Friday 6 January 2012. In attendance of a larger crowd, the licensing committee picked 14 colts for Herning, including four offspring by Zack (by Rousseau).
The 2007 KWPN licensing champion Zack, owned by Blue Hors, already had several sons presented for licensing at the German breed societies but they all failed to impress there. In Denmark itself, all four of the presented stallions were selected to appear at the Licensing. The mighty Blue Hors stud currently has six colts through to the next round.
The colts moving on to the next phase in Herning are:
Believe Me (by Belissimo  x Prince Mab xx) - Breeder: Stald Evergreen - Owner: Steffen Kristensen
Flying Pari (by Akinos x Astaire) - Breeder: Ruth & Jørgen Søgaard - Owner: H. Hansen & J. Markussen
Jakas Don Louvre (by Don Romantic x Lauries Crusador xx) - Breeder: Jan @ Karina Kofoed-Nielsen - Owner: Stutteri Melody
Hot Question (by Hotline x Londonderry) - Breeder: Karin & Gert Ramussen - Owner: Blue Hors
Heiline's Donaurebel (by Romanov x Monteverdi) - Breeder: Line Jensen - Owner: Stald Heiline
Sezuan (by Romanov x Don Schufro) - Breeder: Linette Jæger - Owner: Andreas Helgstrand
Helgenæs Dundee (by Sandro Hit x Schwadroneur) - Breeder: Helgenæs Heste - Owner: Stutteri Melody
Atterupgaards Sastre (by Stedinger x Lord Sinclair) - Breeder: Atterupgaard - Owner: H. Hansen & J.E. Markussen
Trampolin (by Temptarion x Linaro) - Breeder: Stutteri K2 - Owner: Stutteri Eg
Edelman (by Vivaldi x Jazz) - Breeder: Huub van Helvoirt - Owner: Blue Hors
Zaki-Ki Rosenlund (by Zack x Leandro) - Breeder: KM Smedejern - Owner: Blue Hors
Overgaard's Zacksu (by Zack x Londonderry) - Breeder: Tove & Ove Møller Nørgaard - Owner: Blue Hors
Zaragossa (by Zack x Waldsohn) - Breeder: Jytte & Hans Knudsen - Owner: Blue Hors
Zatchmo (by Zack x Donnerhall) - Breeder: in Germany - Owner: Blue Hors
Photo © Ridehesten.com
Related Links
ERA Dancing Hit, Champion of the 2011 Danish Warmblood Stallion Licensing
Zagreb (aka Zack), Champion of the 2007 KWPN Stallion Licensing