2011 U.S. Dressage Championships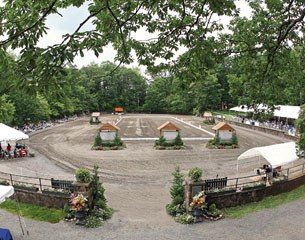 The first glimpse of the horses and riders competing at the 2011 U.S. Dressage Championships, aka Festival of Champions, was had at the USET Foundation Headquarters as more than 54 horses and two ponies made the annual pilgrimage to jog before the Ground Jury at the National Dressage Championships. The sun didn't make an appearance, as Northern New Jersey continues to be plagued with rain, but plenty of lovely horses did.
A star-studded cast of horses and riders includes two of the last three Grand Prix National Champions, the reigning Individual Bronze medalist from the 2010 World Equestrian Games, the reigning Individual Gold and Silver medalists from the 2003 Pan American Games, who were both also members of the Gold medal-winning Team.
For four days, Gladstone will feature the best that American dressage has to offer. With selection for the 2011 Pan American Games on the line in the Intermediaire I Championships, as well as six National titles, the competition which begins Thursday at 8:00 am in the Dick and Jane Brown Arena, promises to be world-class.
The Grand Prix National Championships features Ravel, Akiko Yamazaki and Four Winds Farm's superstar who won the 2008 title in California with Steffen Peters. This pair also swept the 2009 CHIO Aachen, won the 2009 FEI World Cup Dressage Final, and was the highest placed U.S. pair at both the 2008 Olympic Games and the 2010 World Equestrian Games, where they won two Individual Bronze medals.
Tina Konyot was the 2010 champion on Calecto V - and they return to defend their title. This pair has had a quiet summer as Konyot recovered from a knee injury, but they were Peters and Ravel's teammate on the 2010 WEG team, which placed fourth.
This division also features the 2007 Team Gold and Individual Silver medalist, Lauren Sammis on Sagacious HF. Three riders will have two chances in this championship: James Koford will ride Rhett and Pharaoh, Tuny Page will ride Alina and Wild One and Susie Dutta will ride both Manette DC and Currency DC.
The Intermediaire I also features the Individual Gold Medalist, and Sammis' teammate, from 2007 - Christopher Hickey. In 2011 he will ride Hilltop Witness in the Intermediaire I to vie for a spot to defend his title in October in Guadalajara.
Looking for another National Championship is the winner of the 2011 U.S. Developing Horse Dressage Championship. Two weeks ago Pikko Del Cerro HU and Lisa Wilcox built on his win in the 6-year-old U.S. Young Horse Dressage Championship by showing how much the horse has developed and progressed in his training. The 2010 champ in this division also returns, Cesar Parra will ride Grandioso in 2011.
There are a number of other Young Horse and Developing Horse alumni at the 2011 Festival of Champions. They include: 2011 Grand Prix entries Breanna and Kathleen Raine, Currency DC and Susie Dutta, Lord Albert with David Blake and Partous and David Whitman.
In the Intermediaire I division, the strength of the U.S. program is demonstrated by Big Tyme and Marisa Festerling, Calimar and Claire Darnell, Grandioso, ridden in 2011 by Cesar Parra, but was the Developing Horse Reserve Champion with Jason Canton, Warsteiner and Heather Mason, Weltino's Magic, ridden by Shannon Peters as a 6-year-old, now vying for a Pan Am spot with Shannon's husband Steffen.
-- USEF press release
Photo courtesy USET.org
Related Links
U.S. Dressage Championships Set to Return to Gladstone in September 2011