2011 World Championships for Young Dressage Horses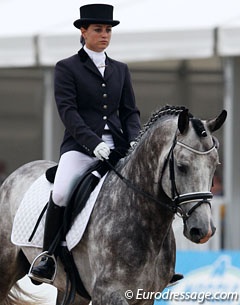 It's not so unusual that a jumping talent switches discipline and becomes a dressage horse competing at Grand Prix level or at the World Young Dressage Horse Championships in Verden. Just think of the last year's silver medal winning 5-year-old, Lissaro van der Helle, who once had been in the jumping lot of the Verden Stallion Licensing Auction. This achievement might be unequalled so far, but it seemed to have prompted other nations to look into both their dressage and show jumping crop for Verden candidates.
This strange and unusual case happened to Italian jumping rider Martina Testi and her young jumping hopeful Calvin de Vallerano, who amazingly qualified for the 2011 World Young Dressage Horse Championships in Verden and was in the running as well for a team spot at the 2011 World Young Show Jumping Horse Championships in Lanaken.
Martina Testi, a qualified riding instructor who together with her mother runs a riding school called "Colle Ottone" in Velletri near Rome, bought her chunky grey stallion Calvin de Vallerano as a 3-year-old. Bred in Italy the grey is by the international Grand Prix jumper Come On (a Baden Württemberger with Holsteiner bloodlines, formerly competed by Princess Haya of Jordan) out of a Silvio I dam. Calvin definitely looks like one of the typical Holsteiner jumping horses: huge, strong bones and a well muscled long topline.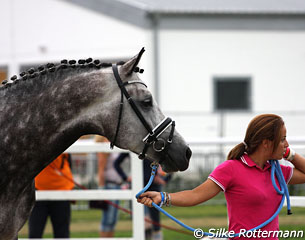 His 24-year-old rider competed him in the qualifications for World Championships for young jumping horses as well as in the ones for Verden. Though Martina considers dressage of fundamental importance for success in the jumping arena she never seriously thought she would stand a chance to go to Verden. To her big surprise and astonishment, the Italian Equestrian Federation chose her to represent the country in Verden.
"Of course I was happy and thought why not," Martina explained. So Martina, her mum and brother went on the three-day journey from Italy to the north of Germany, where they met Martina's aunt and her German husband.
"After we finally arrived in Verden I let Calvin graze next to the racetrack so he could stretch a leg and relax. At home I always do that after work and for him it's the sign everything's done for the day. He's a very laid-back horse, always cool. But in Verden the work, the vet-check, was to come after the grazing," Martina reported.
At the vet-check viewers got the first indication that this horse cannot be a "real" dressage horse. A huge interested crowd gathered around the concrete lane and Calvin caught everyone's eyes. Contrarily to many of his colleagues in Verden that reared and cantered and jumped around like wild beast during the jog, he just showed no intention to go from walk to trot and had to be spurred on by a noisy audience to make the horse decide to jog a bit. Pulling, shouting, clapping hardly animated the stallion to show some metres of trot for the jury, but in the end the dapple grey gave in and trotted cool as a cucumber for a short time.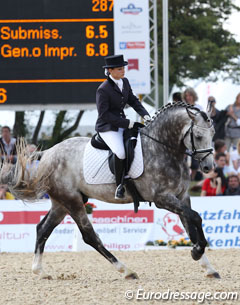 On Thursday Calvin had his first and only appearance in the huge dressage arena in Verden. He might have been surprised to see the crowds, and feel the atmosphere without coloured jumping poles providing him that real competitive edge. Calvin probably decided there and then that dressage is rather boring for him and he showed little will to go forward and present his gaits to the judges and crowds. With jumping blood in his veins, there was no challenge for him in Verden.
The judges awarded a score of 6,3 for this horse from Italy, which placed 36th and last in the 5-year-old preliminary test at Verden. They returned in the ring for the consolation finals and equalled their final position, but with a score of 6.18. Probably if some of the dressage horses in Verden were to face the obstacles at the World Championships in Lanaken, they would find themselves in an equal position as red lantarn bearer.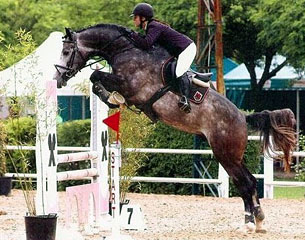 While Martina leads her horse grazing next to the trot-up lane a day after the competition, she told us the story of her unintended dressage horse. Testi showed a picture of Calvin jumping in a competition in Italy. You see a horse on it clearing an L-level jump but double as high as required in the most beautiful style.
Show jumping is undoubtedly the horse's destination and Martina confirms it: "Yes, although we were here in Verden Calvin will continue his career as a jumping horse in the future." Taking his ridability and jumping talent in account Calvin might be seen again under the Italian flag in Lanaken next year.
Article by Silke Rottermann for Eurodressage.com
Back to the 2011 WCYH Index