2011 European Dressage Championships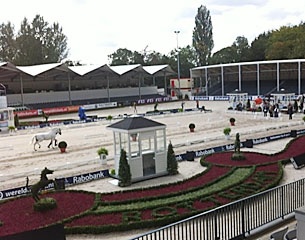 With less than 24 hours to go before the kick off of the 2011 European Dressage Championships in Rotterdam, excitement is building as the vet inspection took place today as well as the draw for countries in the nations' cup, which takes place on Wednesday and Thursdays and is decisive for the team medals.
The vet inspection took place in the main stadium on the competition footing instead of the usual hard surface. Sixty-five horses in total were presented for inspection and all passed but one. Swiss Marcela Krinke-Susmelj's German bred Corinth (by Chenook) did not pass the jog. The Swiss brought along a reserve horse but as he was missing from the list of the horses to be inspected at the jog, it is still uncertain whether the Swiss will be competing with three or four horses.
At 19.00h the draw for the team order took place after the vet inspection. Fortune is already smiling upon the Dutch who are competing on home turf and might enjoy home advantage, because they drew the last country to go in the nations' cup. Sander Marijnissen and Hans Peter Minderhoud will compete on Wednesday, while Edward Gal and Adelinde Cornelissen ride on Thursday.
Sixteen nations are competing in the team championship. Denmark is first to go, title favourites Germany drew second to go, while Great Britain is third. There are however 64 combinations from 21 different countries competing, a record attendance so far. Eleven nations have a team of four riders (BEL, DEN, ESP, FIN, FRA, GBR, GER, NED, NOR, SUI, SWE), while five nations have only a team of three (RUS, POR, POL, ITA, AUT). Estland, Hungary, Luxembourg and Ukraine have one rider while Ireland is represented by two.
The competitors' field is split into two groups. Tomorrow the first part I of the Grand Prix Nations' Cup starts at at 9.30 AM, the second part goes on Thursday beginning at 9.30 AM as well.
Check out photos from the vet inspection on Ken Braddick's website.
Eurodressage will be live on the scene as of tomorrow morning.
Tune into Eurodressage often for the latest updates and don't forget to follow us on Twitter and Facebook as we will probably post quick pics and small commentaries on the social networks first before we're able to post a full in-depth story here on the site.
Back to the 2011 EDC index