British Dressage News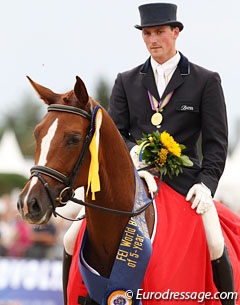 There is little surprise in the rumours that have arisen within days after the World Young Horse Championships that both gold medal winning horses have been sold. Each year the same rumour mill starts after the show, but so far most rumours have been denied.
In Woodlander Farouche's case it has been confirmed that they are not true. Rumour had it that Wilfried Bechtolsheimer had bought the mare for 5 million euro, but breeder and part-owner Lynne Crowden immediately denied it. "They have not bought the mare," Crowden told Eurodressage. "We are not sure that sale is the direction to go. There are a number of interested parties but we are only reflecting on the "what next"."
At the World Championships Crowden had already told Eurodressage that the horse must stay in Great Britain and preferably with Michael Eilberg. That is the route she's exploring at the moment. On the British Dressage forum, Crowden replied that, "In my mind she is almost without value as I always thought that she was remarkable with no weaknesses and with a convincing mechanic behind and not just flashy in front. Having seen her operate in Verden, I know I am prejudiced, but I think she is the best in the world, whatever age, and there may never be another like her."
Bechtolsheimer is aware of the rumour. "I was asked the question earlier today," he told Eurodressage, adding, "here is the same reply: We would love to have her in our yard but unfortunately it is just another rumour."
In case of 6-year old world champion Astrix (by Obelisk x Olivi) the rumour goes round that Paul Schockemohle has also acquired this stallion. Eurodressage contacted owner Perlee, but received no reply so far. Nevertheless it is very unlikely that this rumour is true as the story simply seems swept up in the wake of Bretton Woods' sale to Schockemohle/Linsenhoff.
Photo © Astrid Appels
Related Link
Eurodressage Coverage of the 2011 WCYH