2011 World Championships for Young Dressage Horses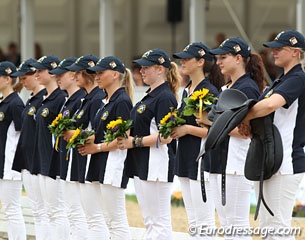 As Verden is more than 540 km from where I live -- not just around the corner -- and as I am not the keenest on young dressage horse classes (thank heaven there's my chief editor!) I never considered Verden to be a show attractive enough to me. However this year I was prompted to go after some hesitation: my friend's horse was nominated on the German team and Eurodressage's editor in chief Astrid Appels invited me to stay at her hotel in Verden. It wasn't my very first time in Verden. I was there for the 1997 European Dressage Championships, but this was my first time at the World Young Horses Championships, so I quite felt like a newbie.
Warming-up at the trot-up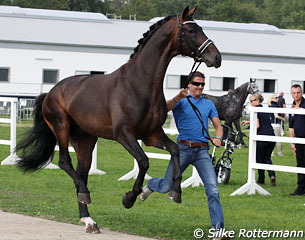 On Wednesday morning I start my 6-hour-journey to the north of Germany and it almost ends at a motorway service near Göttingen as I forget my car key in the toilet box. I only become aware of it minutes later and run back to the toilets in vain, where a nice woman just leaves with my key ring in her hand. Fortunately she believes me I am the owner and the journey can go on.
To my surprise there are no jams and I drive into Verden at 3.30 pm. Standing in front of red traffic lights with the Verden show grounds in sight a raven lands on the bonnet of my car, cheekingly looking inside. A bad omen for the show to come? I send him a kiss as a counterspell and hurry on as to my delight I will make it in time for the vet-check of the 5-year-olds.
I park the car in front of the press centre (obviously the club house of the football club), pick up my press badge and look over the huge show grounds which has several rings, a main stadium (originally a football one) and countless tops of tradestand tents.
Where to go? Having had weeks of cold and rainy weather in Germany it has now been replaced by damp humid weather with thunderstorms heavily hanging in the air.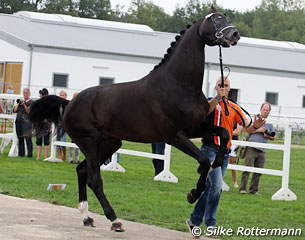 After hours in the cool, air-conditioned car I feel really hit by the humidity and stumble over the fields in the vague hope to find the trot-up lane somewhere in time for the vet-check. It should be a nice warm-up for me for the days to come!
Accidentally I come across something that looks like it soon, but 5 minutes to 4 pm I see neither crowds nor horses where I have expected to see masses hanging around.
Maybe next or some other year when I will return here I know that there is so much to see in Verden spectators just have no time to waste being in place many minutes before more of the countless action takes place.
At 4 pm the place around the ring fills with interested horse lovers, the jury positions itself in a tent at the beginning of the lane and Angelika Frömming from Germany announces the first horse, but she has to raise her voice as the loudspeakers are continuously failing.
Also some of the horses' gender and pedigree are not correct and have to be corrected by the riders who present their horses in many different styles…as the horses themselves act very differently.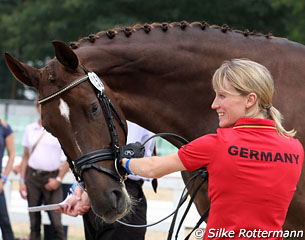 Some are already real pros standing cool as can be at the examination, trotting up perfectly in rhythm with their riders at the sagging lead rein while others are not being able to stand still for some seconds. They threaten the vet's and rider's feet seriously and do not like to trot, but prefer to canter instead. One horse even ruined the beautiful red roses next to lane. The very opposite of exuberance can be observed in an Italian horse which just does not want to trot for a second and needs several lanes, shouting and clapping from the crowds to show some steps to get the necessary "passed".
Everybody holds his breath when one of the favourites, Helen Langenhanenberg's big framed mare Damone's Divene (by her top GP-horse Damon Hill) does show a timid trot and is held to reappear for another inspection at the end of the vet-check. The nice liver chestnut mare gets passed with flying colours when she trots up a second time presented by Helen's husband Sebastian Heinze and there are more than some sighs of relief as Damon's Divene stays in the competition.
Something for everyone's taste

On the second day of my first Verden experience I meet my chief editor in person for the first time. Even though I write for Eurodressage for almost two years now we never had been to the a show together. After a short hello we split again, Astrid photographing long hours at the qualification for 5-year-old dressage horses and me attending the warm-up ring behind.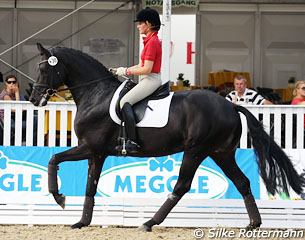 Observing the warm-up for hours I ask myself if some riders mix dressage up with harness racing or with doing power exercises of their upper arms. Why do young dressage horses need to pace one round after the other at top speed before a competition? Does it make the trot more beautiful or more supple? Why is it necessary to bring the nose near the breast or pull it more or less from left to right? Does it make the mouth more sensitive?
Questions from an apparent dressage ignoramus because while some spectators complain quietly, others are seriously impressed by that kind of equitation. Of course I also am able to watch horses and riders which set my heart aflutter, giving textbook examples of warm-ups.
To my great delight one of these, the most beautiful British Hanoverian mare Woodlanders Farouche, wins later on. It's easy to pinpoint her proud owner as she has exactly the same hair colour like her breathtaking mare which is totally laid-back also outside the arena, grazing happily behind the warm-up ring in a halter a day after her victory.
Not only equitation comes in different styles, the same can be said of the conformation of the horses which fight for the medals and placings. As dressage is the equestrian discipline where beauty is sought for and appreciated the most, there are several really beautiful horses, some bigger framed than others.
However, there are also some very few horses where one seriously asks oneself why their federations have sent them off to Verden. Shouldn't World championships be a promotion of the country's breed? So why send horses to Lower Saxony which neither have the quality nor the class to seriously contest in such an important competition? Again questions nobody could answer on the spot.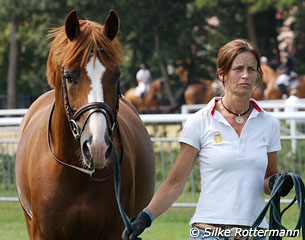 Sometimes warm-ups are also a bit of a fashion show, which I enjoy. I immediately fall in love with Minna Telde's most stylish saddle and have to smile every time I see it on Isac's back over the next days. There is some colour being brought to the vet-check of the six-year-olds by Norway and France.
The Norwegian Warmblood Renoir by De Noir (De Niro), presented by Mette Hansson, might be the most coloured horse of  this year's championships. A sympathetic chestnut stallion with strikingly marked legs and a white spot on the right side of his belly, reminds me of good old jumping horse For Pleasure. France on the other hand has a colourful rider in Philippe Limousin, probably one of the oldest competitors this year, wearing the traditional black Cadre Noir uniform with its golden applications. I have to smile when some elder men standing next to me starts beaming and remarks, "Ah, look at THIS uniform. Isn't it beautiful?" There is really something for everybody here to be happy about, even if it's just a military uniform.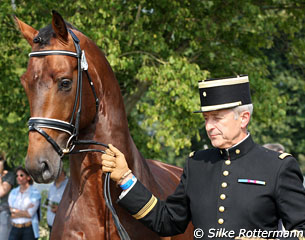 Photographing horses, may it be in the warm-up or the trot-up ring, makes a person definitely hungry and an important factor is the possibilities for catering on the show grounds. Verden turns out to be at least equal to its bigger sister Aachen. Of course there are the obligatory sausage and chips-stands, the crepes-wagons you can find everywhere on the European show scene, but at Verden one can go beyond this. Freshly made pizza and pasta are in the same way available like tapas, ice-cream and different kind of desserts. The only thing required, but that's nothing new to an experienced show visitor, a rather big wallet and lots of patience. Who prefers being comfortably served while following the dressage in the World championships ring, can choose one of the two tents at the long sides of the ring. If only the plastic chairs would be as comfortable as that service! But at least they are useful to stand on if one wants to see something during the lap of honours and not being located in the first rows of the tent.
Where there are horses, there are dogs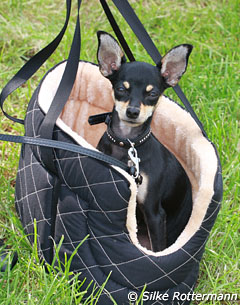 Where there are horses, riders and crowds there are usually dogs as well (Aachen is rather an exception) and in Verden they come in rabbles. Yes, the Jack-Russel-fraction is still in the lead, not only Sissy Max-Theurer has one of these canine paint-versions (coloured and compact) at the lead-rope, but I have the feeling that slowly but surely the Chihuahua might take over in near future. I cannot fight the feeling that Paris Hilton has set a trend carrying dogs in bags. Many of these tiny, but cute and nonetheless noble dogs bravely walk next to a greyhound or even a bigger companion, but others are really carried in bags matching the colours of the dog's hair. Maybe this is a good idea as on Saturday and Sunday a Chiahuahua more than any Jack- Russell or dachshound was in danger being trampled by the masses which invade the show grounds in the course of the day.
Though many of these dogs are surely experienced show visitors (a dachshound immediately settled down and fell asleep within seconds during the Grand Prix as if to know exactly what comes up), none has seen more show grounds in the world than Lola from Denmark.
This fluffy small crossbred who was born in Gran Canaria, Spain, eleven years ago is somehow legendary amongst the journalists who come from all over the world to report in Verden.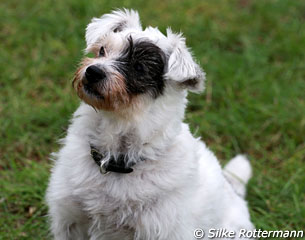 Belonging to Danish journalist Thomas Bach Jensen Lola travels with him almost everywhere and with her charming attitude absolutely makes sure that she always stands out from her canine conspecifics. The way she moves in the press centre also reveals her being a highly experienced show dog.
All in all: Verden is a dog-friendly show where dogs are even offered "water-stations", buckets of water which are very welcome to the thirsty ones, in such warm weather.
CDI- marathons

I do not complain as my generous chief editor gives me free reign to do whatever I like in Verden, but as I promised covering the CDI- tour I bravely stick to the Grand Prix ring at the edge of the Verden football stadium in which the international jumping classes are taking place. Thirty-four horses, this means five hours of Nürnberger Burgpokal qualifier, 5 hours shooting horses and taking notes in between. The weather is awfully humid, but the sun constantly refuses to come out behind the thick mountains of clouds, some times darker than at others.
I really love doing what I do, but in the end I feel a little bit like an automat: Lift the camera, shoot, put the camera down, write notes, lift the camera etc.. The problem on that particular day is that I have to permanently occupy the perfect spot I have found: directly in front of the judges' tower in which the speaker and the show secretary are sitting. There's space to put my papers and pen down, to sit down in the very short breaks and if the heavens open I have quite some shelter from the rain. Once I left for a drink and when I came back two friendly Dutchmen had taken over my spot…
I am learning all the time so on Saturday for the Grand Prix with another 34 horses, I take my place from 2 pm to 7.30 pm and prepare myself a bit better: 4 bottles of water, 2 cola bottles, a box of blueberries from the supermarket nearby the show grounds and three pieces of butter cake from the press centre make sure I do not have to leave my spot at all.
The toilet isn't a problem either as it's even more humid and I am sweating a lot with because of the switching from camera to pen all the time. Like the Burgpokal the Grand Prix offers a high class and interesting field with experienced horses and young hopefuls alike. Still I wish I could quickly beam myself into the W.CH- arena now and then, when the crowds cause a loud uproar, clapping and screaming after delightful rides while the atmosphere in my arena stays rather sombre.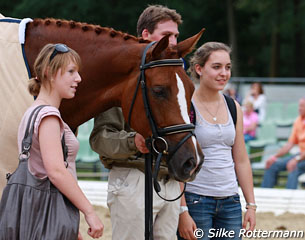 I will never forgive myself missing Farouche's unique ride, but that's Verden: Wherever you are you will always have the feeling having missed something else on the show grounds as there's just so much high class sport going on at the same time. In this aspect and in many others Verden really is a small version of Aachen.
At least I saw Farouche after her prize ceremony standing next to her rider Michael Eilberg when two giggling and beaming young ladies who asked the sympathetic Brit to get a photo with him and the four legged World champion. Probably horse and rider have to get used to this celebrity status for the future!
Glorious Sunday

After brilliant fireworks on Saturday night, which unsettled several horses in the stable,  the last day of that mammoth show starts with the feeling I get air in my lungs! With the humidity gone and replaced by fresh air and a windy weather I go off duty while Astrid has to continue her relentless work. I wander around the tradestands. There are many, but to be honest they are more or less the same like on all the other German or international shows. However it gives the visitors the opportunity to look at things and buy them directly which are often only offered in catalogues. I buy myself a wonderful art print of Anne-Grete Jensen's legendary dressage horse Marzog and cannot wait to see it hanging in my office!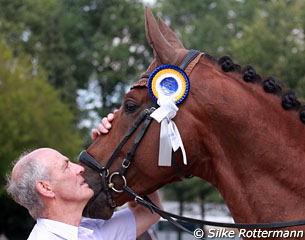 Again I do not see much of the final of the 6-year-olds, this time because my friend's horse starts there and of course I want to follow the stallion's every step until his turn. When he finally enters the arena I forget everything I ever learnt by trial and error shooting horses. My hands are shivering and I am horribly nervous. No need for that as in the end everything goes smoothly, but the waiting for the other horses to do well or not is another nerve-wrecking occasion. Breeder, trainer and owners gather around an iPhone after every ride because the results are on the internet before Angelika Frömming announces them. We are screaming and grabbing arms until Asterix' result is announced. The Dutch stallion takes gold and my friend's horse gets silver. A not expected medal makes it a glorious end to this show after all.
Not long after the presentation of the three medal winners my friend, over the moon with her horse, and me go on the long journey home. This time it does not go as smoothly as on Wednesday. There are several jams and one so long we leave the motorway and go cross country, making the route even longer, but probably quicker.
My friend has screamed herself hoarse during this exciting day and we get us a hot tea and coffee at a completely crowded motorway restaurant 110 km from Frankfurt. The cafetaria is wrowded mainly by participants of W:O:A, a popular heavy metal open air festival near Hamburg which was held the same weekend as Verden every year. Though we have taken part in very different show this weekend we all look the same: Tired, unnerved, sweaty.
Two more times we get stuck in bigger jams which gives myself time to think about my first visit to Verden, raising the unavoidable question if it had been worth all efforts.
While watching through the frontscreen of my car seeing a never-ending row of cars stuck in the jam up to the horizon my clear answer is: Yes, undoubtedly Verden was worth everything, even this jam!
Text and Photos by Silke Rottermann © Eurodressage.com
Back to the 2011 WCYH Index