2011 Bundeschampionate Qualifiers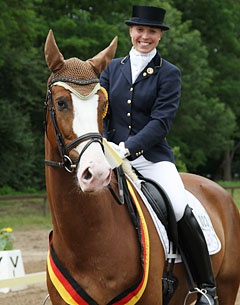 Rien Ne Va Plus and Dalou Shan were the winner of the small Bundeschampionate qualifier held in Linslerhof Überherrn on 25 - 26 June 2011. At this competition the German Paralympic Championships took centre stage whereas the young horse classes only featured a limited amount of participants.
Corinna Schumacher and the bay Hanoverian mare Rien Ne Va Plus (by Rascalino) were the winners in the 5-year old dressage horse division. The pair scored 7.5 for canter, 8 for walk, trot and submission and 8.5 for general impression. Finnish Terhi Stegars and the liver chestnut Oldenburg are Thai Pee (by Farewell III x Dormello) were second with 7.3.
Stegars also took highest honour in the 6-year old division aboard the chestnut Oldenburg stallion Dalou Shan (by De Kooning x Westerland). The pair scored an overall of 8.0 with 7 for submission, 7.5 for walk, and 8.5 for trot, canter and general impression. Günter Essig and the Oldenburg gelding Destino (by Donnerbube III x Calido I) were second with 6.7. They got 7s for walk, submission and general impression, but only 5.5 for canter and 6.5 for trot.
Results
5-year old Dressage Horses
1. Corinna Schumacher - Rien Ne Va Plus - 8.0
2. Terhi Stegars - Thai Pee - 7.3
3. Vanessa Siep - Capo - 7.1
3. Vanessa Siep - Donnerglanz - 7.1
5. Linda Jochheim - Demirell - 6.6
6. Frank Mohr - Dreamboy - 6.10
Rudiger Nixdorf - Kairos - RET
6-year old Dressage Horses
1. Terhi Stegars - Dalou Shan - 8.0
2. Guenter Essig - Destino - 6.7
3. Sophie Rossy - Doylek - 6.5
4. Nicole Grossklos - Fany Any - 6.4
Back to the 2011 Bundeschampionate Index