2011 Bundeschampionate Qualifiers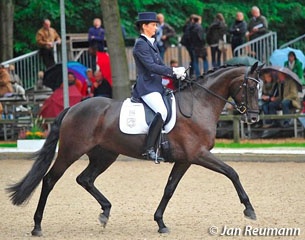 La Lopez and Fraulein Florence were the high scorers at the Bundeschampionate qualifier held at Gut Haller in Kaarst-Buttgen, Rhineland, on 25 - 26 June 2011. Twenty-six horses gathered for this Rhinelander BuCha selection trial which is well attended each year. Even a star rider, such as Nadine Capellmann, saddled a youngster to earn a ticket to Warendorf.
Birgitt van der Eyken's student Christine Nolden won the 5-year old L-level dressage test aboard the Rhinelander mare La Lopez (by Lord Loxley I). The young duo scored 8.3 to ace a field of 14 competitors. Dutch Miranda Rongen and the Rhinelander stallion Sir Fashion (by Sir Donnerhall I) were second with 8.1 and they were followed by Christian Reisch on the Rhinelander bred Lord Münks (by Lord Loxley I) with 8.0.
German Olympian Nadine Capellmann saddled her young Westfalian star Fraulein Florence (by Florencio I) and scored a massive 8.7 to win the 6-year old division. Last year the mare was still competed by Annika Groeben. Johann Hinnemann's student Stefanie Wolf finished second on the Rhinelander mare Arietta (by Abanos) on 8.10. Heiner Schiergen and the Rhinelander bred Laudator (by Laudabilis) was third with 8.0.
Photo © Jan Reumann
Results
5-year old Dressage Horses
1. La Lopez - Nolden, Christine - 8.30
2. Sir Fashion - Rongen, Miranda - 8.10
3. Lord Münks - Reisch, Christian - 8.00
4. Loveliness - Freund, Jana - 7.80
4. Ribery Gold - Kühnen, Sarah - 7.80
6. Dexter - Becher, Miriam - 7.60
7. Lavabo W - Camp, August - 7.50
8. Riogrande de Verano  - Halt auf der Heide, Katrin - 7.40
9. Santiago F - Schleypen, Marion - 7.30
9. Lumberjack - Unger, Anke - 7.30
11. FS Delamanga  - Freund, Jana -  7.20
12. Rossini - Pelle, Alessandra  - 7.10
13. Rocket Man - Reisch, Christian - 6.80
Hironimo - Bartz, Lydia - DNS/RET
Espania - Schiergen, Heiner - DNS
6-year old Dressage Horses
1. Fräulein Florence -  Capellmann, Nadine -  8.70
2. Arietta - Wolf, Stefanie - 8.10
3. Laudator - Schiergen, Heiner - 8.00
4. Danchello   - Gesing, Christian - 7.80
5. Fürst on Tour - Schiergen, Heiner  -  7.60
6. Sirius Black - Wetzler, Charline  - 7.50
7. Sonnenreiter OLD - Mc Cormack, John - 7.30
8. Don Carlos - Unger, Anke -  7.20
9. Sanvino - George, Michele -  7.10
10. Scolara K - Deppe, Katharina Melanie -  6.80
11. Lord Tomason - Wehmeier, Wendy - 6.70
12. Mister Miagi - Grabandt, Manon - 6.20
Back to the 2011 Bundeschampionate Index