2011 Bundeschampionate Qualifiers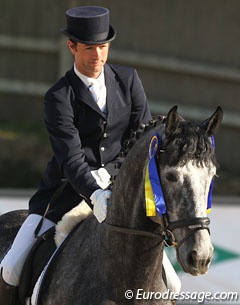 Damon's Divine, Rigoletto and Schickeria aced the Bundeschampionate Qualifier held at the regional dressage show in Borken, Germany, on 11 - 13 June 2011. Forty horses gathered in Borken to gain show experience and attempt to qualify for Warendorf. Six were able to do so by scoring 8.0 or higher.
The 5-year old dressage horse group was split into two and Helen Langehanenberg and the chestnut Damon's Divine (by Damon Hill x Rubin Royal) led in group one with a massive 8.8 score. The pair outclassed German born American Jennifer Hoffmann on Gestut Letter Berg's Westfalian stallion Instertanz V (by Insterburg x Ehrentanz). They scored 8.0.
Spanish Juan Manual Vidal Testal and the Hanoverian bred Rigoletto (by Royal Diamond x Don Bosch ) won the second group of 5-year old dressage horses with an 8.4 score. Anja Schoka and the Oldenburg bred black gelding Willis (by Weltmeyer x Karon/T) were second with 8.0.
Helen Langehanenberg and Sissy Max-Theuer's Westfalian mare Schickeria (by Sir Donnerhall I x Weltmeyer) dominated the 6-year old M-level dressage horse test with an 8.6 score. Young rider Julia Funke and the Oldenburg bred Diamond Rex (by Dr Doolittle x Rubinstein) were second with 8.0.
Results
5-year old Dressage Horses - Group 1
1. Helen Langehanenberg - Damon's Divine - 8.8
2. Jennifer Hoffmann - Instertanz V - 8.0
3. Jana Freund - Loveliness - 7.7
4. Helen Langehanenberg - Reliance - 7.5
5. Tanja Lammers - Fanny Hill - 7.4
6. Ariane Dierkes - Bohemian - 7.3
6. Heiko Klausing - Bvlgari - 7.3
6. Jessica Su?ss - Picardo - 7.3
9. Sabrina Bein - Fabienne - 7.2
9. Sandra Ko?tter - Don Ed Hardy - 7.2
11. Christina Pantzar - Fabriana - 7.1
11. Niklaas Feilzer - Samira Luna - 7.1
13. Frank Bogenschu?tz - Diavolo Nero - 7.0
13. Britta Lichtenberg - Furst Piccolo's Junior - 7.0
13. Evelin Welter -  Second Sancisco - 7.0
16. Hermann Gerdes - Felicio - 6.8
16. Ute Bro?mmel  - Samantha - 6.8
5-year old Dressage Horses - Group 2
1. Juan Manual Vidal Testal - Rigoletto - 8.4
2. Anja Schoka - Willis - 8.0
3. Eva Moller - Sterndeuter - 7.6
3. Beata Stremler - Sandro Rubina - 7.6
5. Jana Freund - Delamanga - 7.4
6-year old Dressage Horses

1. Helen Langehanenberg - Schickeria - 8.6
2. Julia Funke - Diamond Rex - 8.0
3. Ann-Christin Wienkamp - D'Coeur Noble - 7.7
4. Heiner Schiergen - Laudator - 7.6
5. Andrea Ulmker - Ehrgeiz - 7.4
5. Andreas Senge - Flint - 7.4
7. David Taylor - Samiro - 7.3
8. Insa Hansen - Donni Brasco - 7.2
8. Hermann Gerdes - Soleado - 7.2
10. Carmen-Zita Nitze - Larfides - 7.1
10. Heiko Klausing - Sternenfanger OLD - 7.1
12. Insa Hansen - Dante - 7.0
12. Christiane Ulmker - Eastwood - 7.0
14. Norbert Lochthowe - Dos SAntos - 6.9
14. Wendy Wehmeier - Lord Tomason - 6.9
16. Katharina Melanie Deppe - Scolara - 6.8
17. Heiko Klausing - Lauderdale - 6.7
18. Jeannine Hartmann - Higgins - 6.3
Back to the 2011 Bundeschampionate Index