2011 CDN Ludwigsburg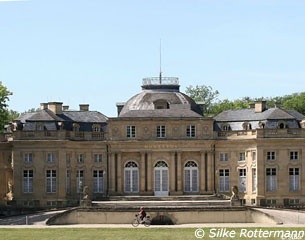 In the 1980s and 1990s a fantastic show circuit existed called "The Classic Castle Cup". Dressage competitions were held in front or next to a castle in several European countries, but unfortunately the circuit ceased to be and the special flair of seeing dressage in such surroundings can only be seen at Wiesbaden, Münster or Balve today ...and at the national show in Ludwigsburg, Germany!
In an idyllic castle park at the outskirts of Ludwigsburg, close to Stuttgart, the Monrepos Riding Club is located. They have been organising this annual dressage show for many years . Though their arena is not directly in front of the beautiful Monrepos classicist water castle horses, riders and spectators pass this small refugee to get to the showgrounds nearby.
As a renowned national dressage show for many years the CDN Ludwigsburg got quite some attention when Spanish Olympic medalist Beatriz Ferrer- Salat competed there a year earlier with her highly talented Delgado. This year Ferrer- Salat returned with her second horse Fabergé, but also riders from five more nations participated in the different classes so the CDN got quite an international touch.
The Riding Club provided good facilities: A cool big indoor arena, a lunging circle and a huge sandy outdoor arena were used to prepare the horses in high temperares nearing 30 ° C.
"The stars of tomorrow"

It has become increasingly popular to offer classes in which upcoming Grand Prix horses must not compete against the experienced ones and in which not the whole Grand Prix programmes is asked. Ludwigsburg offered two such competitions, an Inter II and an S-class including piaffe and passage. More than 25 riders grabbed this opportunity and presented their horses of which some showed real promise for the future.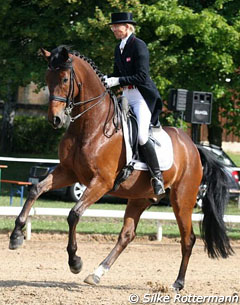 Danish Olympian Lone Jörgensen, who lives in Korntal-Münchingen not far from Ludwigsburg, won the first class on the 9-year-old Württemberger gelding FBW De Vito. She bought the very sympathetic De Niro-son as a foal and is a born winner. With some more maturing he could bring Jörgensen back to where she once belonged with another horse of Württemberg breeding, her former Olympic partner FBW Kennedy.
While FBW De Vito won the Inter II on Friday he changed placings with Bandor on Sunday. Presented by Ton de Ridder's longtime bereiter Max Wadenspanner the 10-year-old Breitling-son is usually ridden by Jill de Ridder and is one of two horses with whom she aims for a place in the German team this year. Wadenspanner got along very well with the chestnut and won on Sunday.
Jörgensen und Wadenspanner were followed by another well known face, two times Olympic team champion Martin Schaudt, who presented the 8-year-old Hanoverian Despino to finish a close 3rd.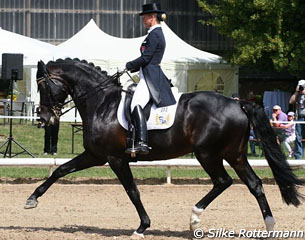 Fourth place went to a steadily improving horse, Unee ridden by Swiss championships rider Jasmin Sanche-Burger. This chique KWPN stallion by Gribaldi has already competed in last year's Nürnberger Burgpokal final after he had won the qualification at CDI Donaueschingen and he is on his way to Grand Prix. Unee has been a premium stallion at the South German licensing and is owned by Swiss O-judge Béatrice Bürchler-Keller who closely followed her horse at Ludwigsburg. Unee has the quality to become a strong addition to the Swiss dressage scene which needs such a pair currently.
Michael Jung, the three-day-eventing World champion at the 2010 WEG in Kentucky, got much attention from the more than 500 spectators surrounding the arena. Jung brought his only dressage horse to Ludwigsburg. Roché is an 11-year-old Württemberg gelding (by Rubicell), like Jung's international CCI***-winner River of Joy. After being successful at PSG level in 2010 Roché is now on his way to the highest dressage level. The dark bay showed a very good canter tour, but his piaffe is still very green and lacks sit. Both placed 3rd in the Inter II and 6th on Sunday.
A dejà vue: Dorothee Schneider reigns supreme in the Grand Prix-tour

The Grand Prix-tour at Ludwigsburg included a short Grand Prix on Saturday morning and a Grand Prix on Sunday afternoon. Both classes were a certain kind of dejà vue as Dorothee Schneider was the double winner on her two rising Grand Prix horses Forward Looking and Van the Man like at the CDI Hagen three weeks ago.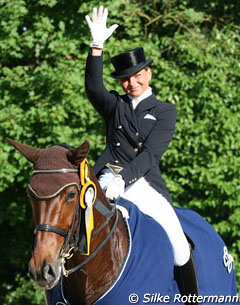 Both horses have repeatedly won or been highly placed at this level this season.
The Westfalian Forward Looking (by Fidermark) is only 10, but appeared very mature at this levels. There was much action going on around the arena, but the mare remained focused on Schneider who presented her in a nice frame with highlights in the passage and in the sitting pirouettes. Van the Man finished second twice, but on Sunday he was only 2 points behind his stable mate. This KWPN by Obelisk is owned by the Rothenberger family and at only 9 is as confirmed in the Grand Prix movements as Forward Looking.
Beatriz Ferrer-Salat had to rely on her second Grand Prix horse Fabergé, who is already 15. The dark Hanoverian by Falkland presented himself as a very experienced Grand Prix horse with no real weak spots and placed 3rd.
4th in Sunday's Grand Prix were Uta Gräf and the licensed Holsteiner stallion Le Noir, who also 5th in the short Grand Prix. The massive black always moved in an exemplary frame with soft bit contact and executed copybook pirouettes. For Gräf it turned out to be a successful weekend as she won the St. Georg and St. Georg Special class on the De Niro-son Dandelion, formerly trained by Martin Schaudt.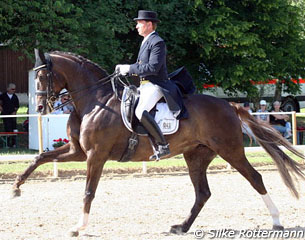 The youngest horse in the class, the 8-year old Oldenburger Deauville, placed fifth. He was third in the Grand Prix at the CDI Bartlgut earlier this month. This lovely liver chestnut mare, ridden by Bavarian professional Uwe Schwanz, is a talent to watch in the future! In all the movements she was free of tension and very light in the bridle while nicely staying uphill.
Another rider from Bavaria, Ludwig Zierer, ranked behind Schwanz in 6th place. His Oldenburg stallion Weltino (by Welt Hit II x Sion), which he bought as a foal, is 15 now and has established a name for himself. He has won CDI shows before and been runner-up at the Bartlgut CDI behind Heike Kemmer. The cute dark bay stallion showed probably the best piaffe of the class, classically sitting, the poll the highest point and completely on the spot.
Marion Engelen with her trusted partner Diego OLD and Nicole Gläser-Käppeler on the elegant Danish Michelino-son Tamino followed in the rankign. This highly elegant bay had some mistakes on Sunday, but has proven his talent in the short Grand Prix in which they were 3rd with fantastic light footed piaffe, passage and transitions and ridden with a nice and light bit contact.
Marginal notes from Ludwigsburg

Ton de Ridder might have been the busiest man in place, training several riders, among them his daughter Jill and his bereiters Max Wadenspanner and Geertje Hesse.
Martin Schaudt and Lone Jörgensen were also busy multi-tasking as trainers and competitors.
Carola Koppelmann's and Hubertus Schmidt's former Grand Prix mount, the Trakehner gelding Hinnerk TSF, competed under the French flag. Julie Pellerin, who was also trained by Ton de Ridder, presented the Trakehner in the S-class with piaffe and passage.
Maybe the only rider with a kind of fan-club in place was Uta Gräf whose rides with Le Noir caused loud screaming from a group of enthusiastic girls who met their idol after the test and told her they only came to see her ride.
Strongly represented in the small tour classes was Birkhof Stud, represented by Nicole Casper and Falk Stankus. They showed 4 horses, amongst them former Bundeschampion Birkhof's Denario and reserve- Bundeschampion Don Diamond. The gorgeous Münchhausen-son Birkhof's Meraldik came 2nd in the Inter I-kur while the impressive gelding Birkhof's Dave placed 4th in the same class. Stankus showed his talented Heraldik xx-son Birkhof's Haakon in a snaffle in the warm-up ring, but did not compete the black gelding.
Probably the most stylish rider of the show was Nicole Gläser-Käppeler who had made her way from Nordrhine- Westfalia to the south of Germany. She rode in a tail-coat with pink applications, pink handkerchief and even wore lipstick in matching colour
Text and Photos © Silke Rottermann for Eurodressage.com
Related Links