2012 Olympic Games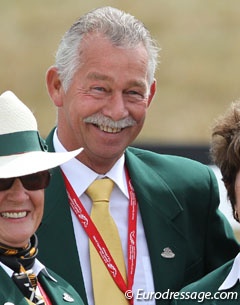 British O-judge Stephen Clarke has been appointed President of the Dressage Ground Jury for the London 2012 Olympic Games at the recent FEI Bureau Meeting.
A delighted Stephen told British Dressage; "I feel deeply honoured to have been awarded this appointment by the FEI. Of course it comes with a huge amount of responsibility which is not to be taken lightly. Having been a member of the judging panel in Athens, the original home of the Olympic Games, to be invited again to judge in London is indeed a dream come true."
Stephen rode internationally through the 70s and 80s, collecting five National titles along the way. After hanging up his competitive boots, he turned his focus to training, organising and judging. He now travels the world judging at major competitions and Championships and delivering training clinics both on riding skill and judging.
As an FEI 'O' or 5* Judge, Stephen has had the privilege of officiating at five World Cup Finals, three European Championships, three World Equestrian Games and London will be his second Olympic Games. He is a Fellow of the British Horse Society and was presented with a Queens Award for Equestrianism in 2010.
"I was so thrilled, as we all were, when it was announced a few years back that London had won the bid to host the Olympic Games in 2012. To now think of being part of this event is beyond exciting!" said Stephen.
He continued; "The rest of the judging panel have not been announced yet but, without doubt, they will be selected from the best in the World. I look forward to working with them at this illustrious event where we will do our utmost to ensure a fair result for every rider who will be taking part in the Games."
British Dressage Chief Executive Amanda Bond said; "Stephen's appointment is a great honour for him individually but as a Nation, it cements Britain's current standing in the international Dressage community. Stephen's contribution to the sport has been monumental - from his influence in modernising the way our judges work to his continual encouragement to improve standards and fairness – he's really helped the sport progress. This is just reward for him personally and we are looking forward to 2 August next year when the first Dressage horse trots down the centre line in Greenwich."
Text courtesy British Dressage - Photo © Astrid Appels
Related Links
Book in Review: Dressage Dreams - by Stephen Clarke
Stephen Clarke Receives BEF Medal of Honour