German Dressage News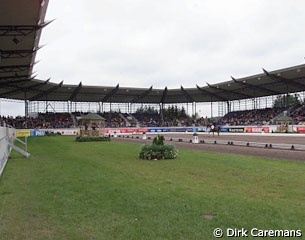 The organisers of the CHIO Aachen are considering the organisation of the 2015 European Equestrian Championships. They plan to present an innovative concept to the International Equestrian Federation (FEI).
"We feel obliged to constantly develop new ideas here in Aachen, this of course also includes the organisation of major championships", stated Carl Meulenbergh, President of the Aachen-Laurensberger Rennverein (ALRV), to substantiate the current considerations. "With championships in five disciplines, all carried out at one venue, we want to advance the European Championships to European Equestrian Games, and to live up to the outstanding atmosphere that we had here during the World Equestrian Games in 2006", said Michael Mronz, General Manager of the Aachener Reitturnier.
 
"We have the ideal infrastructure for organising several championships at one venue," affirmed Frank Kemperman, Chairman of the Managing Board of the ALRV. Up to now, there have never been European Championships with five disciplines that were organised at the same place. Aachen would be the venue for the European Championships in the disciplines jumping, dressage, eventing, vaulting and four-in-hand driving.
"We will now finalize this concept and present it to the FEI and the FN", said Kemperman. Formally, the German Equestrian Federation (FN) has to make the bid for the European Championships with Aachen as the venue. In the spring of 2012 the FEI will decide about the allocation of the event.
Photo © Dirk Caremans

Related Links
Eurodressage Coverage of the 2011 European Championships
Eurodressage Coverage of the 2009 European Championships
Eurodressage Coverage of the 2007 European Championships