Veterinarian News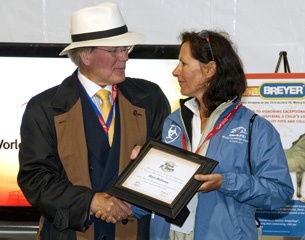 Whether in sports competition or the game of life, there are turning points that elevate the underdog to victory, redefining the anonymous as the unforgettable. In the face of mounting challenges, how does one identify and seize these pivotal moments to create a catalyst for success? In Lexington, Kentucky, USA, from May 22-25, 2011, Alltech's 27th Annual International Animal Health and Nutrition Symposium
will be dedicated to just such a pursuit, exploring The Game Changers for the animal health and feed industries.
"Today's challenges signal that it's time to rewrite the playbook," said Dr. Pearse Lyons, president and founder of Alltech. "Raw materials are becoming rare materials. Least-cost rations are but one example of failed strategy. Sustainability is questionable with conventional practices, and consumer confidence is tepid at best."
Alltech's 2011 International Symposium is intended to be an industry time-out, providing opportunities for professionals to huddle in specialized breakout sessions – including aquaculture, beef, dairy, equine, poultry, pig production, pet food, regulatory, food quality, traceability, and communication in agriculture. All sessions will be dedicated to the open discussion of creative game-changing strategies for revolutionizing industry practices and thus redefining its future.
"The clock is ticking. Our planet is expected to reach its 9 billion inhabitants apex by 2050," said Dr. Lyons. "There is hope, however, for  game-changers that will enable us to generate sustainable profitability, innovatively use new raw materials, and add value to conventional agricultural products all while maintaining resources for our planet."
Of particular note, plenary and breakout sessions will include focused discussion on programmed nutrition; technology to maximize release of nutrients from DDGs and other feedstuffs; formulation to minimize nutrient waste; branding nutrition; sustainability strategies; and the use of new media in communicating directly with the consumer. The prestigious Medal of Excellence and Alltech Young Scientist Awards will also be presented during the Symposium.
For further information, including a full agenda with topics and speakers, and to register, please visit www.alltech.com/symposium. Join in the conversation on Twitter by using the hashtag: #AlltechSymposium.
-- Alltech Press Release
Related Links
Eurodressage Veterinary News
2011 Equine Regenerative Seminar in Wellington, Florida