Dutch Dressage News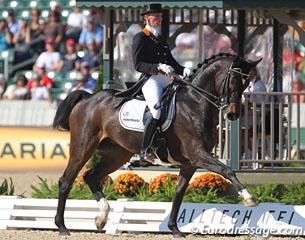 Imke Schellekens-Bartels and her Hanoverian mare Sunrise will not make their show come back at the CDI-W 's Hertogenbosch in March as planned because the recovery of the mare's injury is taking slightly longer than expected.
The dark bay mare sustained an injury in December during a lunging session and has been off work since then. A check up by veterinarian Jef Desmedt this week led to the conclusion that a return to the show ring in March is too soon, but that the mare is on the road to full recovery.
"The vet was very pleased with the recovery of the injury," said Imke Schellekens. "After six weeks of walking, we can now do a few minutes of trot. This is of course good news. Sun is happy that she can do a bit more each time. In 6 weeks we have our next check up. It will take a while before we'll appear in the show ring again (the way it looks now it'll take about three months), but I'm happy that the rehabilitation is going well."
Schellekens also announced that she will be making the transition to Grand Prix soon with her second ride Toots (by Jazz), who she considers her 2012 Olympic hopeful as Sunrise will be 18 next year.
Related Links
Imke Schellekens' Sunrise Injured in Lunging Accident
All That Glitters: Totilas Grabs Triple Gold in Grand Prix Kur at 2010 World Equestrian Games