2011 KWPN Stallion Licensing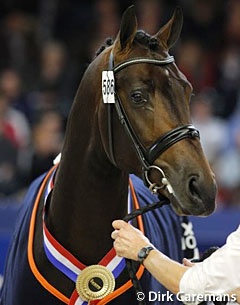 Diebrecht has been proclaimed champion of the 2011 KWPN Stallion Licensing in 's Hertogenbosch, The Netherlands, on Saturday afternoon 5 February 2011. The Zizi Top x Kennedy offspring stood out
with his modern conformation and gorgeous face, but could have had more flexion in the joints despite his active hind leg. 
Diebrecht is bred by M. Kool-van Woudenbergh and owned by Bakker and Siersma from Bergen aan Zee, The Netherlands. He is out of keur mare Originel (by Kennedy x Astronaut x Nepal).
From a commercial point-of-view it was not surprising that Diebracht was proclaimed champion as the dark bay colt would be sold in the KWPN Select Sale auction after the licening. Just like four years ago with KWPN licensing champion Zack (by Rousseau), Danish Blue Hors Stud acquired the champion stallion in the auction for 150,000 euro. Blue Hors also privately purchased Don Olymbrio L (by Jazz x Ferro).
"Diebracht showed much expression and performed very constantly in all three phases," said the KWPN society. "He showed very good basic gaits with much self-carriage, balance and leg usage."
The title and crowd favourite was the liver chestnut Dude (by Vivaldi x Havidoff x Recruut x Aktion). The gorgeous modern looking colt, bred by Mr Vloet and owned by Tamerus Beheer, had tons of knee action (maybe a bit too much, lacking stretch forward) and a very quick hind leg though he was narrow in the hocks. Dude was proclaimed reserve champion of the licensing.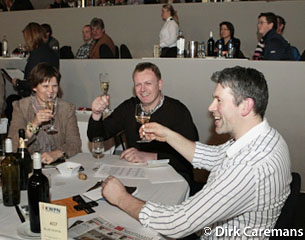 The licensing committee commented that Dude had "a nice self carriage and a nice front leg, but the chestnut could have ben a bit stronger behind to beat Diebrecht."
The third ranked premium stallion was Dorado (by Krack C x Rousseau x Donnerhall). The chestnut colt is bred by Cees Kikkert and owned by the duo Kikkert/Ad Valk. "This chestnut has a very correct conformation, good body usage and a nice front leg," said the committee.
The Licensing Committee, constituted by Wim Ernes, Arie Hamoen and Reijer van Woudenberg, approved 26 dressage bred stallions out of 204 who appeared in front of them for licensing in Den Bosch. Seven stallions were invited to the champion's ring from which the licensing champion was picked.
The seven premium colts were ranked as following: Diebrecht (by Zizi Top x Kennedy), Dude (by Vivaldi x Havidoff), Dorado (by Krack C x Rousseau), Darkboy (by Vivaldi x Havidoff), Deniro V.O.D. (by Hotline x Michelangelo), Davinci (by Valdez x Voltaire), and Didando (by Tuschinski x Jetset D).
The 26 accepted colts are invited to the mandatory KWPN Stallion Performance Testing to complete the full licensing process. They are:
376 Domingo (by Citango x Gribaldi)
377 Don Tango (by Contango x Jazz)
390 Dacapo (by Dreamcatcher x Montecristo)
397 Dance (by Florencio x Rohdiamant)
404 Deniro V.O.D. (by Hotline x Michelangelo)
407 Don Olymbrio L (by Jazz x Ferro)
428 Dorado (by Krack C x Rousseau)
459 Diesel-S (by Painted Black x Montecristo)
507 Dance L (by Tango x San Remo)
512 Denzel (by Tuschinski x Tango)
514 Didando (by Tuschinski x Jetset-D)
517 Dark Pleasure (by Ufo x Jazz)
519 Dondersteen (by United x Sir Sinclair)
526 Davinci (by Valdez x Voltaire)
527 Delando (by Valdez x Krack C)
534 Dude (by Vivaldi x Havidoff)
537 Deejay (by Vivaldi x Farrintgon)
543 Darkboy (by Vivaldi x Havidoff)
544 Dream Boy (by Vivaldi x Ferro)
452 Diëgo (by Negro x Don Gregory)
558 Donaldson (by Westpoint x Flemmingh)
569 Dream Theather (by Wynton x G Ramiro Z)
678 Dance Royal (by Wynton x Flemmingh)
586 Diebrecht (by Zizi Top x Kennedy)
646 Astrix (by Obelisk x Olivi)
649 Connaisseur (by Con Amore x Donnerhall)
Photos © Dirk Caremans - Check out a huge amount of photos of the KWPN Stallion Licensing in Caremans' database
Related Links
Thirty-Eight Colts Accepted for Third Phase of 2011 KWPN Stallion Licensing
Oscar Son, Champion of the 2010 KWPN Stallion Licensing
Bordeaux, Champion of the 2009 KWPN Stallion Licensing
Ajong (aka Ampere), Champion of the 2008 KWPN Stallion Licensing
Zagreb (aka Blye Hors Zack), Champion of the 2007 KWPN Stallion Licensing
Wamberto, Champion of the 2006 KWPN Stallion Licensing
Coverage of the 2005 KWPN Stallion Licensing and Select Sale
Ustinov and Uptown, 2004 KWPN Stallion Licensing Champions
Tornado, Champion of the 2003 KWPN Stallion Licensing
Symfonie, 2002 KWPN Licensing Champion
First KWPN Select Sale at 2001 KWPN Stallion Licensing
Paddo, 2000 KWPN Stallion Licensing Champion