NRPS Breeding News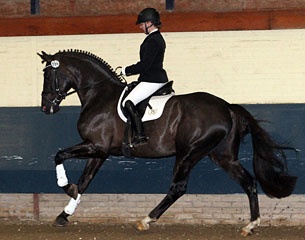 The Dutch Riding Horse and Pony Studbook (NRPS) approved 11 sport horses, 8 pony stallions and one Arabian at its second and third phase of the 2011 NRPS Stallion Licensing on Saturday 8 January 2011.
After a thorough veterinary exam, twenty horses were accepted for breeding and they will appear again on 29 January 2011 at the NRPS Stallion Show in Ermelo, The Netherlands.
The NRPS licensing committee consisted of chair Gert Teunissen, Dick Groenwoud and Ed van der Meij and all stallions were medically examined on their X-rays, semen fertility, roaring and DNA.
One 5-year old dressage horse and five show jumpers born in 2008 were accepted. Douglas (by Vivaldi x San Remo) was the price highlight at the 2010 Equine Elite Young Stars a few months ago and theblack  colt is now approved by the NRPS for breeding. Lexus TV (by Lauries Crusador xx x Donnerhall x Akzent II x Grande) was the only 3-year old accepted dressage stallion.
Two dressage horses older than 4 got a breeding ticket. It involves the Belgian owned and KWPN registered Aaron (by Florencio x Record x Jason) and So You Know (by Scandic x Krack C x Glendale).
More detailed info on the approved stallions can be found here
Photo © Sandra Nieuwendijk
Related Link
Twenty-Five Colts Approved at 2010 NRPS Stallion Licensing