2016 Olympic Games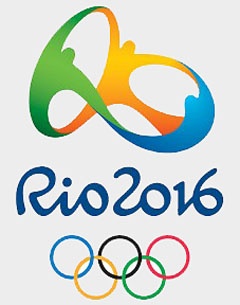 Rio de Janeiro unveiled its 2016 Olympics logo before more than one million New Year's revelers on Copacabana beach on Friday just before midnight. The flowing symbol resembles three figures - orange, green and blue - embraced at the arms and in a flowing dance.
"The logo for Rio's 2016 Games conveys passion and transformation. The passion of all Cariocas and Brazilians for sport and celebration," said Carlos Nuzman, president of the Rio Olympic organising committee, "Carioca" being the name for Rio's citizens. "And the transformation that the Games are already bringing to Rio and to Brazil."
A giant TV screen set-up on Copacabana beamed the logo to cheering spectators. Shortly after, a massive flag with the logo was rolled out atop the crowd, who caused the banner to shimmer as they danced underneath it.
Olympic organizers have said the Rio 2016 brand was created to reflect the city's culture and represent its natural wonders and joyful residents. Organisers said the logo was designed based on four pillars: contagious energy, harmonious diversity, exuberant nature and Olympic spirit.
Nearly 140 agencies initially participated in the process to design the logo and only eight made it into the final phase. A multidisciplinary team of 15 national and international members of Rio 2016's organizing committee made the final decision a few months ago to choose a design created by the Rio agency, Tatil.
IOC President Jacques Rogge made his first visit to Rio since the Pan American Games in 2007, and in addition to seeing the logo unveiled, used the past few days to take a close look at how the city has been preparing for the Games.
"I would like to congratulate Rio's team for the design chosen as the logo for Rio 2016, which is very innovative and creative," said Rogge. "It really reflects the vision of Rio and Brazil for these Games."
Related Links
Rio de Janeiro Elected to Host 2016 Olympic Games
London Gets the 2012 Summer Olympic Games