Dutch Dressage News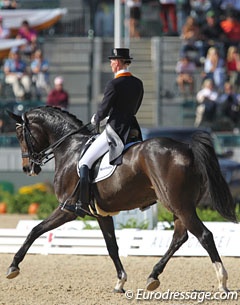 Horses.nl reported that Imke Schellekens-Bartels' Hanoverian mare Sunrise (by Singular Joter x Werther) got injured in a lunging accident and will not be fit for the 2010-2011 indoor show season.
Schellekens had planned on competing at the 2010 CDI-W Frankfurt, which starts tommorow, but is now forced to stay home. 
"Every evening I lunge Sun a bit," Schellekens told Horses.nl, adding "especially because the horses can not be turned out in the field due to the bad weather. It's a good way for them to stretch their legs. When I wanted to lunge her there were still two people riding. I told them "heads up guys I'm going to let Sun stretch her legs." I hadn't finished uttering these words or one of those horses spooked, jumped aside and ran into Sunrise. It went really fast. Sunrise spooked, bucked and landed the wrong way. I immediately noticed that it wasn't right, because she was irregular."
Straight away Schellekens took to the clinic where the vet advised Imke to walk Sunrise the next six weeks because the injury is quite serious. Next week, the 16-year old dark bay mare, who is owned by the Smarius family, will be brought back to the clinic for another check-up.
"The leg is swollen and it's hard to tell what's exactly wrong. It really sucks, especially because of the way it happened. It's also horrible for the person on the horse who bumped into Sun. I want to be very clear, it's not her fault. It's just bad luck  and an accident."
Because of this injury, Schellekens will not be able to compete at the planned events in Mechelen and Amsterdam, which means that she'll miss qualification points for the 2011 World Cup Finals in Leipzig, Germany.
Source: Horses.nl
Related Links
Sunrise Shines at 2009 CDI-W Frankfurt
Imke Schellekens Not Competing at 2008 Dutch Dressage Championships
Imke Schellekens Wins Third Consecutive World Cup Qualifier at CDI-W Amsterdam
Imke Schellekens Takes over Sunrise from Tineke Bartels