Danish Dressage News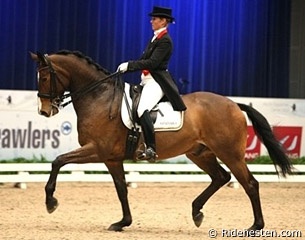 The Danish warmblood gelding Atterupgaards Molberg has been sold to Swiss WEG team rider Marcela Krinke-Susmelj. Danish rider Sanne Henningsen trained Molberg (by Michellino x Rambo) from novice to Grand Prix level.
Bred by Kristine and Michael Munch Sinding, Molberg is one of Denmark's rising Grand Prix horses. Previously owned by Danish horse dealer Klaus Munkedahl, Molberg is a 9-year old gelding and one of many Michellino offsprings making their big break through at the highest dressage level this year. Under Sanne Hennigsen Molberg placed sixth at the 2006 World Young Horse Championships in Verden. In 2010 they were the reserve pair for the Danish WEG dressage team.
This is the second time that Hennigsen trained a young horse up to Grand Prix and right before its prime the horse gets sold abroad. She also trained Clearwater (by Carpaccio x Limebrand) to the highest level and competed it at the 2007 European Championships but then the bay geding sold to Mr. Kies in The Netherlands for Anne van Olst to ride. 
"Right from the first day, Molberg has been my favourite horse," said Henningsen reflecting on how special Molberg has been to her. "He overshadowed all other horses, simply because of his personality. I've had a long journey with Molberg; not a long nor a tough one, but a great one. We've always had chemistry and I think it has meant a lot while working with him."
Henningsen, who is employed by Munkedahl, was always aware that her horse would get sold. "Of course it is not funny having to say goodbye to the horse you love the most in the barn," Henningsen admitted, "but I have to deal with it professionally. From
the day he came into the barn, I knew that he would get sold. I'm actually really glad that it was Marcela who got him. She rides elegantly and softly. She is a really good person."
Henningsen will now be focusing on young horses again including the 6-year old Capong (by Michellino x Racot) and the 4-year old Oberst (by Onassis x Michellino). 
Marcela Krinke's number one Grand Prix horse Corinth (by Chenook) is 14 years old. Atterupgaards Molberg will strengthen Marcela's team of horses and will be her hopeful for future championships.
Source: Ridehesten.com
Related Links
Krinke and Eversfield to Represent Switzerland at 2010 World Equestrian Games
Atterupgaards Molberg and Damenwahl Shine at the 2006 World Young Horse Championships
Danish Team for 2010 World Equestrian Games Selected