Swedish Dressage News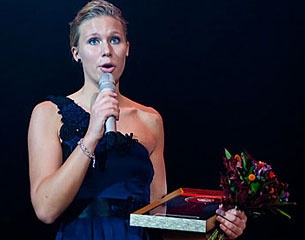 Swedish dressage riders Patrik Kittel, Minna Telde, and Nina Hofmann became three of many award recipients at the Swedish Riders' Gala held at the Globen in Stockholm 25 November 2010.
Patrik Kittel was proclaimed Swedish Dressage Rider of the Year following his great successes at the 2010 World Cup Finals in 's Hertogenbosch and his team nomination for the 2010 World Equestrian Games. 
"Pride will have a fall," Kittel quipped.
Minna Telde was awarded with a trophy for "Best Performance of the Year" for taking her inexperienced Grand Prix horse Larina Hom to the 2010 World Equestrian Games.
Nina Hofmann received the award for "Future Star in Dressage". This trophy, which can only be won once, is given to riders below the age of 30 who compete at the highest level and have international experience.
"First I would like to thank my horse Leo. Together we've gone from medium dressage upwards. I also want to thank my first coach Pia Holgersson and my dear dad who drove me around Europe," said Nina with tears in her eyes.
Pernille André-Hokfelt's bay stallion Wladimir O.A (by Flemmingh x Florestan I, breeder: O. Anema from The Netherlands) was named "Future Dressage Star"
Dressage rider Jeanna Hogberg did not end up with one of the most important prizes of the evening, Comet of the Year. The award went to the 22-year old eventing rider Sandra Gustafsson, who has been successfully competing in national 3-star evening shows.
Rolf-Göran Bengtsson's German bred show jumping stallion Casall La Silla (by Caretino II- x Lavall I) was proclaimed Swedish Horse of the Year 2010. Bengtsson's groom Celia Rijntjes was Groom of the Year.
Tord Bonde became the Breeder of the Year. He bred the Canadian owned silver medal winning eventer Colombo.
A complete report with extra photos of the 2010 Swedish Riders' Gala can be found at Tidningen Ridsport
Photo © Anna-Lena Bergqvist
Related Links
Larsson, Vilhelmson and Paridon Magi Win at 2009 Swedish Riders' Gala
Brink and Karlsson, Award Recipients at 2008 Swedish Riders' Gala