Dutch Dressage News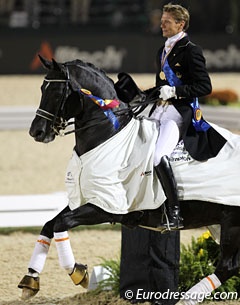 The World Record breaking and most hyped dressage horse in history, Moorlands Totilas, has been sold to Paul Schockemohle. An end has come to the stiff denial of all the rumours about a sale, which have circulating since the 2010 World Equestrian Games.
Today, Kees Visser's press agent Semira Norman launched the official press release in which the sale of Totilas to Schockemohle has been confirmed.
"It is with mixed emotions that we launch this news. We wanted to wait until the deal about the sale was fully done, but today the buyer came out with the news himself and we didn't want to lag behind," said Visser. "The past two years we've been living a dream and enjoyed every moment of Edward and Totilas. After Kentucky it was impossible for us to refuse the offer on Totilas. We have now come to the point that we decided in good agreement with all parties to him go."
In his statement Visser continued to explain his decision. "The World Equestrian Games in Kentucky were the absolute apex on an emotional and competitive level. It was not an easy decision, but with all his competitive highlights and three gold medals in Kentucky one shouldn't challenge fate. We believe that it was the right moment to sell."
Totilas' rider Edward Gal is devastated about the sale of his once-in-a-lifetime horse but understands Viser's decision. "It is unreal to me that Totilas is leaving. From the first moment I rode him I knew he was a once-in-a-lifetime horse. Of course there was continuous interest in him, but I never expected it to go this quickly. I understand Moorland's decision but I'm sad."
Visser praised the achievements of Totilas' rider. "Of course it's not easy for Edward," said Cees. "Thanks to his talent and dedication Totilas became a phenomenon. We never expected them to become such a top combination when we bought the horse and gave him to Edward to ride. Together they added a new dimension to dressage. They were the first to score above 90%! We are taking a new roa and new challenges lie ahead of us. In the past we have invested in talented horses and we'll continue to do so in the future. Edward remains to be a top rider for whol we want to provide potential top horses in the future."
Text © Eurodressage - No Reproduction Without Credit+Link!
Related Links
All That Glitters: Totilas Wins Kur Gold at 2010 World Equestrian Games
Edward Gal and Totilas, 2010 Aachen Grand Champions
Edward Gal and Totilas Win 2010 World Cup Finals
Edward Gal and Totilas Conquer 2009 Dutch Championships
Totilas Proclaimed KWPN Horse of the Year 2009
Total Pleasure with Totilas at 2005 World Young Horse Championships