2010 World Equestrian Games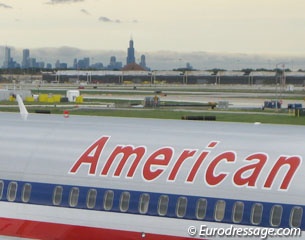 The last time I was in the United States of America was in March 2007 for the Palm Beach Dressage. The 2010 World Equestrian Games are a venue not to be missed by any committed dressage fan and the fact that they are hosted in the U.S.A. this year only added to the fun! There's nothing like a nice 8 hour flight to America to arrive in the land of plenty.
This is not meant sarcastically. I LOVE going to the States, especially because it's such a different country and I get to met my dear American friends Mary Phelps and JJ Hathaway of Dressagedaily.com and Horsesdaily.com, who are my hosts for the week. They were also the people who introduced me to equestrian journalism by flying me over the 1998 North American Young Riders Championships, my first even as a "reporter" for Horsesdaily.com and my own site at that time, Belgian Junior Rider Online.

The introduction of Facebook, Blogspot and Twitter has brought international dressage riders closer to their fans and the entire week a select few of them made the effort to keep everyone updated about their whereabouts and actions at the Kentucky Horse Park prior to the competition. All sent out extremely positive messages about the weather, atmosphere and conditions in Kentucky so those still stuck at home got more eager to go by the minute.

I had booked my flight to Lexington half a year in advance and my departure was set up 25 September, the day of the opening ceremony. I always find it very hard to say goodbye to my partner and the pets I love, the responsibilities you leave behind at home. The day before any flight  I get anxious and nervous because I don't want to forget anything while packing my bags. For this trip I had bought two brand new silver Samsonite Cosmolite suitcases as my last suitcase, which I had bought on a trip to Thailand, broke down during a trip to Barcelona begin September. 

When I was all packed and ready I decided to weigh my luggage. The new suitcases only weigh 2 kilos empty each (in comparison to the 6 kilos of my old one). The suitcase with clothes (and a few camera accessories) weighed 18 kilograms, my carry one wheelie with laptop, cameras, lenses, etc a staggering 14,7 kilos. Fingers crossed they don't weigh that bag at the check-in !!  A few days ago I read the blog of Shannan Maskauskas of the Horse Magazine complaining about her 8 kg-carry on bag! Let me tell you all, the trick to preserving your back and arms from breaking down while traveling with such heavy luggage is really simple: FOUR WHEELS!! Next time you buy a suitcase, make sure it rolls on four wheels. You'll thank me for it.

I arrived at Brussels airport at 9 AM, nicely on time. At the check-in the friendly lady, who told me she used to ride horses but didn't know what the World Equestrian Games were, said that my ESTA-form was incomplete. My what??? Apparently there is a new online form which needs to be filled out when you travel to the U.S. It replaces the green paper slip you normally get on the plane which you have to give to customs. The check-in lady told me to run downstairs to the Internet Cafe, fill out the form, pay the mandatory 14$ fee for it and come back. Stress stress, rush rush. Fortunately it only took 7 minutes to fill out so I was back on time and ready to board the plane.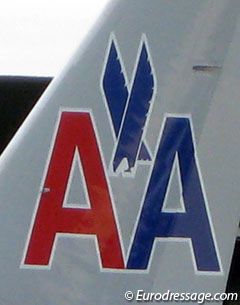 I cheated on my regular Airline company. I normally fly Delta but as I hadn't flown to the US for more than two years I had lost all the frequent flyer miles I had so passionately collected. More than 70,000 points gone. Dang! Well bye bye Delta then and hello American Airlines. I love those initials A.A.  The flight literally "flew by". The 8 hours to Chicago went so quickly because I was able to watch two movies (Sex and The City 2 and Brooklyn's Finest) and 1/3 of Terminator Salvation on the entertainment set, all combined with a power nap.

Sex and The City is one of my favorite shows of all times, but the second movie disappointed me. The infantile and caricatural portrayal of sex-crazed Samantha, horny in the Abu Dhabi desert, was plain silly. Furthermore the Stanford-Anthony wedding was ridiculous (Stanford should have stayed with Marcus anyway) and the appearance of Smith Jerrod seemed promising (he's the one who should get back together with Samantha) but it didn't happen. Maybe we'll get to see that in SATC 3? To me the best pieces of the movie were Carrie's internal struggle with her role as a married wife (and her conversations with Big about it) as well as the mother-to-mother dialogue between Miranda and Charlotte. "Sip!"

After a smooth landing in Chicago, clearing customs went quickly and I arrived at Terminal 3 for 7 hours of lay-over to kill. Yikes! I had planned on doing some shopping and was totally ready for another "impulse buy" but the only shops I saw were Hudson News stands and tons of Food Courts and beer gardens. I briefly looked at a ring with sparkly rhinestones, but it didn't fit. The shopkeeper tried to convince me to buy it by saying, "just don't tell anyone it's fake" and then she immediately showed me her two inch fake blue acrylic nails and asked me if I thought they were pretty. I strategically circumvented the truth but saying that "I can't wear fake nails because I daily have to handle horses."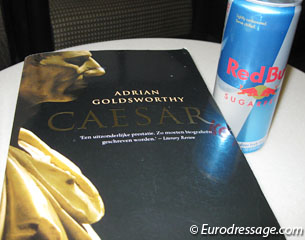 After walking all over concourse G,H and K and having explored the maximum of what there is to see in the airport terminal, I decided to undertake a very important task which I have been putting off for months: cleaning out my purse. I sat down on the carpet in a far corner of the terminal and started throwing stuff out of my bag. Tons of receipts from super markets, clothes shops, boarding passes, old suitcase tags, paper that wrapped around candy, crumbles, four pens, two lipsticks, coins, five hairbands, three hair clips, a 700 page book, a Marie Claire, a big wallet, my real boarding pass, passport, iPhone, parking cards… . that was it. Two middle aged ladies were watching me while, I -- a real baglady -- was making a mess of the floor. I saw them watching me and said, "I'm sorry, I really had to do this. I simply can't find stuff in my bag." They laughed. The twosome was part of a group traveling to Italy on a tour from Rome to Florence and Venice. I told them they would probably have the vacation of a lifetime in definitely one of the most beautiful countries in the world.

There was free access to a computer with internet and I ended working two hours on it, updating the website and checking mail. Cool, at least I wasn't too much behind on work missing a day due to the flight.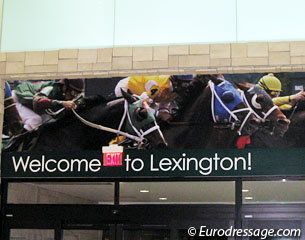 I headed towards the gate at 6.45 PM and wondered if I would recognize faces on the flight to Lexington. Sure enough there they were: a whole group of Brits including renowned former dressage rider and judge Jennie Loriston-Clarke. The final leg of my trip only took 50 minutes and I arrived in Lexington 9.15 PM local time.

Mary had arranged a ride for me in a style I'm totally unaccustomed to: a limo!! A huge black stretcher limo arrived to pick up one girl with two bags. I felt so out of place but it was fancy. Kent Sparks of Lake Cumberland Limo's drove me to the show ground drop-off zone where we waited for a group of Mary's guests who attended the opening ceremony, including her sister Nancy.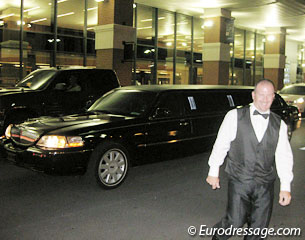 After we picked them up Kent headed to Spindletop, where we met Mary and JJ. We exchanged big hugs, switched my suitcases to their car and then went into Spindletop for a late night snack and drinks. Surprisingly Mary met Ronny Gurfin, the man who gave her her very first job ever. Ronny is a member of the Harnass Racing Hall of Fame and he brought his partner Linda. We ate some salmon on biscuits and huge shrimp with a glass of Kendall Jackson. Delicious!

Mary's camper is based at Reese Koffler's Maple Crest Farm and it was a new one I hadn't seen before. Its layout is pretty similar to the old one so I felt right at home. Mary, JJ and I chatted about horses and life until 2.30 AM before I went to sleep. My day of 24 hours being awake came to an end as soon as I stopped focusing on the ticking clock in the kitchen unit. Tomorrow, I'll the batteries out.
by Astrid Appels
Back to the 2010 WEG index