Swiss Dressage News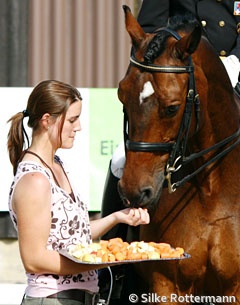 Christian Pläge's Regent will be sadly missed on the international dressage scene. Pläge's Danish warmblood gelding was officially retired from sport at the 2010 Swiss Dressage Championships in Eggenwil on Sunday afternoon 22 August 2010.
Regent was bred in Denmark in 1992 by Flemming and Jonna Jessing. The son of the Holsteiner Resident came to Christian Pläge's stable ten years ago as a successful M-dressage horse.Owned by Mr. Jean Didier from Sion, Switzerland, the beautiful bay with the cute big eyes matured into a internationally successful Grand Prix horse in 2001.
Regent turned out to be one of Switzerland's most reliable team horses ever. He represented his rider's country for the first time at the 2002 World Equestrian Games in Jerez, placing 6th with the team and 18th individually. A year later Regent came 7th in the World Cup Final in S'Hertogenbosch and in 2004 he performed at the Olympic Games in Athens.
2006 had been Regent's most successful year. He won the Swiss Championships and went on to reach the freestyle final at the World Equestrian Games in Aachen. There he gave over 50,000 spectators a present of a kind rarely seen today. At the end of his performance "Reggie," as he is called at home, halted at the end of the test and stood still like a statue on long reins and enjoyed the clapping. His perfect halt reflected his always relaxed character and happy attitude to life .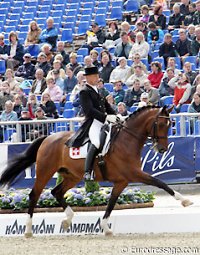 Regent represented Switzerland for the last time at the 2009 European Championships in Windsor where he reached the Grand Prix Special with a relaxed and supple display of classical dressage. At 18 Regent is still in top shape, but after disappointing results at the CDI Wiesbaden in the spring, owner and rider decided to retire the gelding from the sport.
At the Swiss Championships in Eggenwil Regent was celebrated for the last time in front of a packed house. His long list of achievements and his value for Swiss dressage were emphasized before Regent was offered by his grrom  a silver plate with carrots and apples.
Regent will remain in his rider's yard near Solothurn in Switzerland where he lives in a spacious paddock-box and goes grazing in the fields. He will still be exercised daily as he is much too fit to retire completely and he enjoys being spoilt by the whole team of Christian Pläge.
Photos © Silke Rottermann - Astrid Appels
Related Links
Corinth Does it Again at the 2010 Swiss Dressage Championships
Salieri CH and Regent Withdrawn from WEG Contention 
Christian Pläge and Regent, A Fresh Breeze at 2003 World Cup Finals