2010 World Equestrian Games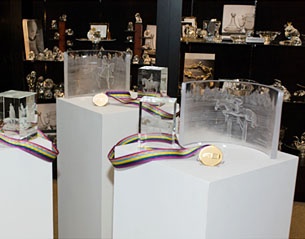 The beauty of the horse and the spirit of the Bluegrass will be showcased in the unveiling of the trophies and medals to be presented to the world champions of the World Equestrian Games.
Lexington-based luxury gift store and fine trophy provider, L.V. Harkness & Co., has worked intimately with Moser Crystal of the Czech Republic to create team and individual trophies and medals for each of the eight disciplines participating in the Alltech FEI World Equestrian Games.
The 2010 Games will feature eight world championships of equestrian sport and are being held for the first time in the United States September 25-October 10 at the Kentucky Horse Park in Lexington, Ky.
The team trophies were designed to showcase each discipline with the true spirit of the Bluegrass; the Kentucky Horse Park skyline and four-plank fencing provide the background for each of the eight trophies. The trophies took over 14 months to create from start to finish and are valued at approximately $50,000 each. These truly magnificent works of art are sure to be admired for years to come.
"The trophies and medals created by L.V. Harkness are not only beautiful, but also showcase Kentucky as the Horse Capital of the World," said Jamie Link, CEO of the World Games 2010 Foundation. "The world champions crowned during the World Equestrian Games will have a beautiful piece of the Bluegrass State to take home with them."
"L.V. Harkness & Co. conceptualized the trophies and the Master Copper Wheel Engraver at Moser brought them to life," said Whitney Fields, Director of Equine Product Development for L.V. Harkness. "We are happy to talk with a client, realize their vision and develop a product that showcases their passion."
Back to the 2010 WEG index