2010 Bundeschampionate Qualifier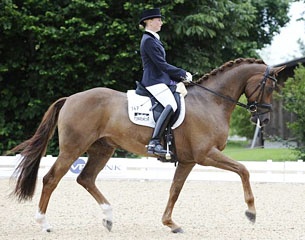 The Bavarian stallion Franz Joseph and the Hanoverian gelding Redford won the Bundeschampionate qualification classes at the Ingolstadt-Hagenau qualifier on 10 - 11 July 2010.
Ralf Kornprobst and the Bavarian branded stallion Franz Joseph (by Florencio x Coriograf B) won the 5-year old dressage horse test with 8.2. Two combinations tied on second place. Kerstin Kronaus and Carmen, an Oldenburg mare by Florencio x Donnerschwee, scored 8.0. Rudolf Widmann and the bay mare Dana got the same mark from the panel of judges.
Jessica Werndl and the chestnut Hanoverian gelding Redford (by Rosentau x Escudo) won the 6-year old division. The combination scored 8 for trot, 8.5 for canter and 9 for walk. With two 8.5s for submission and general impression, they averaged 8.5 which was plenty for the trophy. Robert Harrisson Schmerglatt and the Hanoverian stallion Fonteyne (by Furst Heinrich x Davignon) placed second with 7.5.
Results
5-year old Dressage Horse Test
1. Franz Joseph - Kornprobst,Ralf - 8.20
2. Carmen - Kronaus,Kerstin - 8.00
2. Dana - Widmann,Rudolf - 8.00
4. Royal Paul - Michalke,Victoria - 7.70
5. Daviano Carlo G - Mang,Martina - 7.60
6. Show - Master - Kerner,Stefanie - 7.50
7. Haddington KHR - Rügheimer,Constanze - 7.40
8. Antonio - Kronaus,Kerstin - 7.30
9. Coco Procol Harum - Mücke,Philipp - 6.40
His Highlight - Pielmeier,Barbara - RET
6-year old Dressage Horse Test
1. Redford - Werndl,Jessica - 8.50
2. Fonteyne - Harrisson Schmerglatt,Robert - 7.50
3. Riverman - Schulkowsky,Ursula - 7.40
4. Rubinho - Rügheimer Dr.,Stefanie Maria - 7.00
5. Danny Belucci - Embacher,Melanie - 6.60
6. Copacabana - Werndl,Jessica - 6.50
Lobenswert - Boos,Christina - ELI
Back to the 2010 Bundeschampionate Index