2010 World Equestrian Games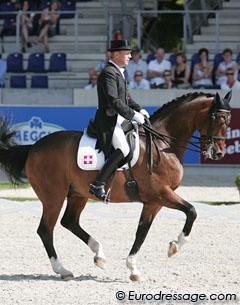 Swiss team horses Salieri CH and Regent are withdrawn from contention for the 2010 World Equestrian Games in Kentucky, 27 September - 1 October 2010. Salieri CH will not fit on time and Regent has been officially retired from competition sport.
Switzerland's number one dressage rider Silvia Ikle had already stated in January 2010 that participation at the WEG with her 15-year old Swiss warmblood would be questionable. The dark bay gelding by Salieri was recovering from an injury and it was unsure whether he would be fit on tome. Ikle has now told the Swiss Federation that she will not be ready. 
"It is simply too early. I have to and will accept this," Ikle commented. "I still hope to get him back in shape like in the old days. But I have to give him plenty of time for that. There isn't enough for Kentucky."
Danish born Christian Pläge announced that the 18-year old Danish warmblood Regent (by Resident) has been retired from competition after a career of 11 years, of which 10 were at Grand Prix level. Regent's owner Jean Didier agreed that it was best to retire the bay gelding still sound.
The cause of this decision was Regent's performance at the CDI Wiesbaden a few weeks ago. "Regent did a very nice technical Grand Prix Special and only got 64,7% for it," said Pläge. "The owner and I agree that the 18-year old Regent could still win a test with 71% in his 10th year at Grand Prix level. He does not deserve such a gradual deterioration in points."
The withdrawal of two key combinations of the team considerably interferes with the plans of the Swiss Equestrian Federation leading up to WEG. The closing date for WEG is 15 August 2010 but the Federation has admitted that the goal is still to send a team of four to Kentucky. "This planning will not change. We have been selected with a team according to FEI and national criteria. The selection committee will make a decision at the beginning of August," the federation stated. 
Related Links
Silvia Ikle Takes 2010 World Equestrian Games Under Consideration
Christian Pläge Gets Swiss Passport