2010 Bundeschampionate Qualifier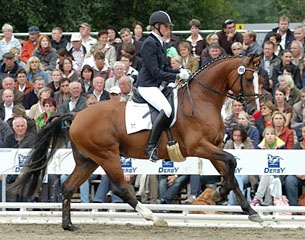 The 5-year old Hanoverian stallion Lissaro van de Helle and the 6-year old Westfalian mare Fandela won the Bundeschampionate qualification classes at the regional show in Coesfeld-Lette on 4 June 2010.
Claudia Rüscher and the Belgian owned Hanoverian premium stallion Lissaro van de Helle (by Lissabon x Matcho AA) continue their winning streak in Coesfeld.
This duo, which already won the 2008 and 2009 Bundeschampionate Finals in Warendorf, qualified again this year with a top score of 8.70 in Coesfeld. Lissaro is a premium stallion and was discovered and bought by Paul Mais and Edith de Reys of Stoeterij van de Helle.
Olivier Oelrich and the licensed stallion Fineliner (by Florencio x Regazzoni) finished second with 8.3. Third in the ranking were Eva Möller and the Hanoverian mare Belandra (by Belissimo M x Sandro Hit) with an 8.1 score and tying with Wiebke Stommel on Mrs Hamann's Hanoverian stallion St. Werther (by Sandro Hit x Werther).
"Belandra is bred by Gestut Lewitz and was a candidate for the AOS auction last year," Eva Möller told Eurodressage. "But because she's such high quality we decided to put her in the PSI auction instead, so she will be sold in December. She is truly outstanding; very rideable and beautiful basic gaits."
Four horses in the 6-year old division scored 8.0 or higher to obtain an entry ticket for the Bundeschampionate. Julia Werning and Fandela (by Floresco x Weltfeuer) won the test with 8.3. Carola Koppelmann and the Hanoverian mare Lady Luna (by Londonderry x Feiner Graf) achieved an 8.2 score and placed second. Marion Wiebusch aboard So Nice (by Sandro Hit) slotted in third with 8.1 and Ingrid Klimke finished fourth on the British owned Dresden Mann (by Dresemann) with 8.0
Results
5-year old Dressage Horses
1. Claudia Rüscher - Lissaro van de Helle - 8.70
2. Oliver Oelrich - Fineliner - 8.30
3. Eva Möller - Belandra - 8.10
3. Wibke Hartmann-Stommel - St. Werther - 8.10
5. Martin Stamkötter - Basic - 7.70
6. Pia Piotrowski - Bellagio - 7.60
7. Frederic Wandres - Dynamico - 7.50
7. Ariane Dierkes - Sir White Foot - 7.50
9. Sabine Egbers - Daniel Craig - 7.40
9. Ursula Kufner - Lanya - 7.40
11. Insa Hansen - Dante - 7.30
11. Zilia Maria Rottmann - Rohniro - 7.30
11. Stefanie Kerner - Show - Master - 7.30
11. Ingrid Klimke - Glenn Grant - 7.30
15. Tina Wehlmann - Diamond Queen S - 7.20
15. Hella Kuntz - Royal Falcon - 7.20
15. Christopher Ifland - Wontogga - 7.20
18. Ann-Christin Wienkamp - Don Primo - 7.10
19. Pia Piotrowski - Horse & Hound's History - 7.00
19. Ellen Anger - Salomon Blue - 7.00
21. Hiltrud Mormann - Sinfonia Monasteria - 6.80
22. Alexandra Ebertfründ - Femme Jolie - 6.40
22. Raul Pereda Ortega - Sunshine Lady - 6.40
24. Ariane Dierkes - Shakespeare - 6.20
6-year old Dressage Horses
1. Julia Werning - Fandela - 8.30
2. Carola Koppelmann - Lady Luna - 8.20
3. Marion Wiebusch - So Nice - 8.10
4. Ingrid Klimke - Dresden Mann - 8.00
5. Jim Koford - Floredo - 7.70
6. Henrike Sommer - Sunshine - 7.50
7. Ann-Christin Wienkamp - Wariness - 7.40
8. Frederic Wandres - Lex Lennard - 7.20
Back to the 2010 Bundeschampionate index