2010 Bundeschampionate Qualifier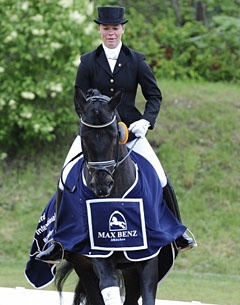 Horatio and Rosandro put down impressive winning performances at the Bundeschampionate qualifier in Munich, held co-incidingly with the World Dressage Masters CDI on 14 - 16 May 2010.
Dorothee Schneider and Sven Rothenberger's Hanoverian Horatio scored 8.5 to claim victory in the 5-year old Dressage Horse division. The Hochadel x Matcho AA gelding received solid 8.5 marks for his basic gaits and 9.0 for general impression. The pair beat Victoria Michalke on Wasabi, an Oldenburg bred Welt Hit IV x Lancer I offspring. They finished with an 8.3 score and 2nd place. Schneider ranked third with Rothenberger's Sir Rubin (by Sir Donnerhall x Rubinstein) on 8.2. The combination tied with Kira Wulferding astride the Oldenburg Elite Mare Champion Weihegold (by Don Schufro x Sandro Hit).
Wulferding won the 6-year old division on Sissy Max-Theurer's Oldenburg licensed stallion Rosandro (by Rosario x Sandro Hit). The elegant pair achieved 8.80 and fended off all competition. Nicole Casper and the South German Licensing Champion Don Diamond (by Diamond Hit) slotted in second with 8.4, while Jessica Werndl and Redford (by Rosentau x Escudo) finished third with 8.2.
5-year old Dressage Horses
1. Dorothee Schneider - Horatio - 8.50
2. Victoria Michalke - Wasabi - 8.30
3. Dorothee Schneider - Sir Rubin - 8.20
4. Kira Wulferding - Weihegold OLD - 8.20
5. Carl Cuypers - Fackeltanz OLD - 7.70
6. Senta Kirchhoff - Soulmate - 7.60
7. Victoria Michalke - Royal Pau - 7.30
8. Walter Wadenspanner - Pagalli - 7.30
9. Anja Plonzje - La Rouge - 7.20
10. Jessica Haag - Herbstzauber - 7.00
11. Jessica Werndl - Royal Spirit- 7.00
12. Barbara Pielmeier - His Highlight - 6.70
13. Johanna von Fircks - Chicco von Nymphenburg - 6.40
14. Sarah Geisenberger - Fandango - 5.70
15. Julia Kohl - La petite amie - 5.70
6-year ol Dressage Horses
1. Kira Wulferding - Rosandro - 8.80
2. Nicole Casper - Birkhof's Don Diamond - 8.40
3. Jessica Werndl - Redford - 8.20
4. Nars Gottmer - Meggle`s Lord d`Amour - 7.60
5. Jessica Werndl - Waterkant - 7.50
6. Christine Boos - Lobenswert - 7.40
7. Robert Harrison Schmergla - Fonteyne - 7.30
8. Senta Kirchhoff - Shira Mareen - 7.20
9. Falk Stankus - Birkhof`s Touch me - 7.20
10. Alexandra Sessler - Eliot - 6.90
11. Benjamin Werndl - De Luxe - 6.80
12. Christian Motzeth - Aragon - 6.50
Photo © Maximilian Schreiner
Back to the 2010 Bundeschampionate Index