2010 Preis der Besten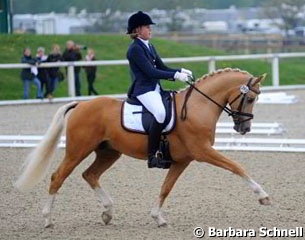 Jessica Krieg, Jill de Ridder and Fabienne Lutkemeier became the grand champions at the 2010 Preis der Besten in Warendorf, Germany, 7 - 9 May 2010. This event is an early season inofficial German youth riders championships and is one of the most important shows for team selection for the 2010 European Pony, Junior and Young Rider championships.
Thirteen-year old Jessica Krieg was unbeatable in the FEI pony division with Werner Steinheuer's 7-year old palomino German Reitpony Danilo (by Dornik B x Power Boy). Trained by Stefanie Meyer-Biss, the young Krieg showed excellent riding skill and scored the winning scores of 72.96% and 76.16% to take the overall victory. I'm overwhelmed and can hardly grasp what happened," the ecstatic Krieg commented after her kur victory. 
It was a neck-to-neck race between Jill de Ridder and Maria Charlott Schürmann in the junior riders' division. Aboard the bay gelding Charmeur (by Carabas) Ton and Alexandra de Ridder's daughter Jill won the team test with 71.081% ahead of Maria Charlott Schürmann on World of Dreams (69.676 %). In the Kur to Music they switched places. Schurmann won the class with 75.250% whereas De Ridder scored 74.300% and took the overall title in their division. Schurmann finished in reserve champion's position and also scored the third highest overall mark with her second horse Burlington (by Breitling). However, only one medal is given to a rider so Burlington was scratched from the overall ranking and Florine Kienbaum landed third place with Good Morning M (by Goethe).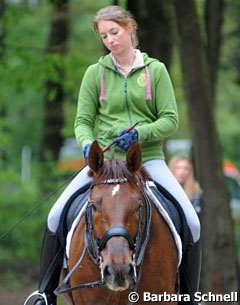 Young rider Fabienne Lutkemeier wielded the axe of power in her division with two winning rides (72.737 %, 78.350 %) on D'Agostino (by De Niro x Shogun xx x Wenzel). Dorothee Schneider's student Stella Charlott Roth is having an amazing season so far achieving top marks in the Preis der Besten qualifier in Kronberg and now finished second in the 2010 Preis der Besten. Aboard Diva Royal (by Don Frederico) she scored an overall total of 145,57 points to place just head of bronze medallist Louisa Luttgen with Habitus (by Hohenstein) on 145.45 points. 
"Particularly I'm very happy that we have a few very good young combinations with clear perspective for the top in the future," judge Kerstin Holtaus commented after the show. 
Text by Astrid Appels
Photos © Barbara Schnell
Related Link: Scores 2010 Preis der Besten