American Dressage News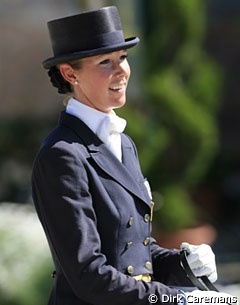 The Board of Directors of The Dressage Foundation announced that Courtney King-Dye of New Milford, Connecticut, has won the 2010 Carol Lavell Advanced Dressage Prize in the amount of $25,000. The purpose of the Prize, established at The Dressage Foundation, is to provide financial assistance for coaching and training to a talented, committed, qualified rider whose plan is to reach and excel at the elite, international standards of high performance Dressage. Dye plans to use the funds to take two horses, Hampton Green Farm's Grandioso and Maryanna Haymon's Don Principe, to Europe for training.
The $25,000 Prize will be awarded to Courtney King-Dye during a special feature presentation at the Palm Beach Dressage Derby on March 7, 2010. Carol Lavell, founder of the Prize Fund will present the Prize to Dye. The $25,000 Carol Lavell Advanced Dressage Prize was established in special remembrance of Carol's mother, May Cadwgan, and in honor of her father, Gordon Cadwgan. Mr. Cadwgan will also be in attendance for the presentation at the Derby.
Carol Lavell said, "I established this Fund at The Dressage Foundation as my way of 'giving back' to the sport that has been so good to me. I know that, for most riders, obtaining financial support becomes the ultimate hurdle. I'm so grateful to my family and loyal friends whose charitable gifts have helped me establish this Fund, and in a dollar amount that will be able to award this $25,000 Annual Prize for many years into the future."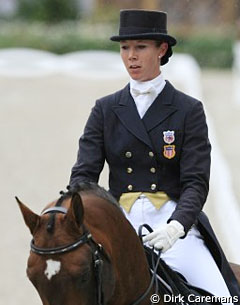 "We are so pleased and honored to have the Carol Lavell Advanced Dressage Prize in our growing family of Funds at The Dressage Foundation," said Jenny Johnson, Administrative Manager. "Congratulations to Courtney, for being selected by this award's prestigious Selection Committee!"
"I am amazed that Carol Lavell came up with this idea of the Advanced Dressage Prize and that, together with The Dressage Foundation and a whole lot of work and team effort, made it a reality. We are incredibly lucky as a community of dressage riders to have access to such help, thanks to their efforts, and I could not be more honored to be chosen as a recipient. The prize is going to help tremendously in my training endeavors. I am so thankful to Carol Lavell, The Dressage Foundation, and everyone who made this Prize possible," said Dye.
Photos © Dirk Caremans
Related Links 
Courtney King-Dye Loses Rendezvous
Harmony's Mythilus Euthanized Due to Colic
Decision in the Positive Medication Case involving Mythilus
Idocus Back in Training with Courtney King