2010 CDN Munster Indoor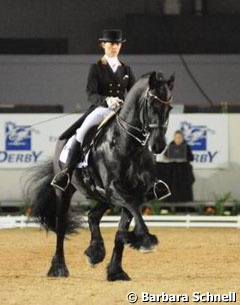 Our German star photographer Barbara Schnell drove to the Munster Indoor national competition to capture photos of the new combinations of the 2010 show season. The Munster show is always very well attended and the first event where new combinations are being show cased. The competition is becoming more international each year with Dutch and Swedish riders attending.
Unfortunately one Dutch trainer (no, not a famous trainer but training a Dutch and German rider) did not feel at ease in the "lion's den" because he regretfully felt to need to growl like a neanderthal at our photographer who was taking warm up photos. Apparently this rude person did not feel confident about his way of training his students because of his unstoppable urge to defamate and humiliate our photographer. Where are those yellow cards when you need them!
Here is a selection of photos that Barbara took. All gorgeous photos!
All photos © Barbara Schnell - No Reproduction Allowed
Related Links
Scores 2010 CDN Munster Indoor
Photo Report 2009 CDN Munster Indoor