Dutch Dressage News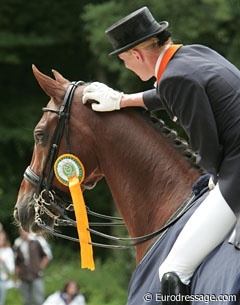 The FEI has approved the dates for the 2011 European Dressage Championships which will be hosted in Rotterdam, The Netherlands.
The event, which leads up to the 2012 Olympic Games in London, will take place 18-21 August 2011.
The European Championships are hosted in the Kralingse Bos park in Rotterdam, where normally the annual CHIO Rotterdam is set. This event will also go on in 2011 but one week after the Europeans on 25 - 28 August 2011.
"By organizing the CHIO Rotterdam after the European Champions in August we are able to achieve the preparations, including the planned expansion of the audience capacity. We try to be as as efficient as possible for the participants, officials, media and organisation," said Frans Lavooij, chair of CHIO Rotterdam.
Related Links
CHIO Rotterdam Proclaimed Best Outdoor Dressage Event?
Photo Report of the 2009 CDIO Rotterdam