2009 French Junior and Young Riders Championships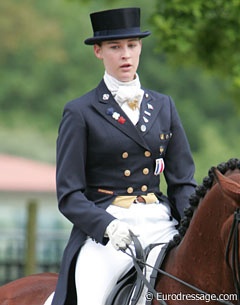 Jessica Hel and Camilla Judet Cheret won the gold medat at the 2009 French Junior and Young Riders Championships held at the national equestrian centre in Saumur, France, October 29 - November 2, 2009.
Jessica Hel and the black Selle Francais gelding Minos de Maziere (by Florestan) collected the gold thanks to her winning Kur to Music (72,10%). Hel had finished second twice in the first to rounds with Alix van den Berghe going into the freestyle in the lead. Van den Berghe dropped to a third place in the Kur (68,900%) aboard Marc Feller's Oldenburg bred Othello (by Sevillano xx). "I probably felt too much pressure," Van den Berghe told French reporter Claire Feltesse. "And of course Jessice rode well," she added. Ninon Vandenabeele, who is trained by Maxime Collard, ended up with the bronze medal. Astride Bruno Saint-Cast's Bavarian warmblood gelding Rakino (by Ragazzo x Wallstreet) she was fifth in the team test, second in the individual and third in kur to Music.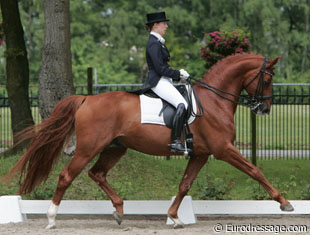 At Young Riders' level Camilla Judet Cheret, daughter of O-judge Isabelle Judet, dominated her division by winning the team test (66,053%), individual test (67,632%) and Kur to Music (69,900%). Her partner in crime was the bold Selle Francais stallion Mister Grand Champ (by Rohdiamant). Camille is studying political science at the University of Lille and is currently only riding on the weekends. Pauline Leclerq was definitely breathing down Judet Cheret's neck and finished second in all three rounds with the 11-year old French bred stallion Khallgazel du Maupas (by Gauguin de Lully). Trainzd by Serge Cornut, Leclerq ended up with the silver and referred Claire Richard on Ornament P to the bronze medal position.
In the "Cadets" division, which corresponds with M level for 15 to 16 year old riders, Corentin Pottier reigned supreme in all three champioship rounds and won the gold medal. Trained by Dominique Brieussel, Pottier rode the black Hanoverian mare Wellness. Salome Sadoun finished second with Fleur de Pail followed by FEI Pony rider Maria Balezeaux aboard her FEI pony Danae (by Dornik B). Most French pony riders chose not to compete at Cadet level as flying changes are required and normally not trained on FEI Ponies.
Photos copyrighted: Astrid Appels/Eurodressage.com
Results
Pony Riders
1. Corentin Pottier - Wellness - 67,938 - 68,000 - 71,550 --- 207,488
2. Salome Sadoun - Fleur de Pail - 67,063 - 67,214 - 70,200 --- 204,477
3. Marie Balezeaux - Danae - 67,188 - 66,929 - 69,200 --- 203,317
4. Alexia Ducos Blanchet - Darius - 67,688 - 67,429 - 64,300 --- 199,417
5. Joy Khoury - Kami de Kerlo - 62,563 - 66,143 - 67,950 --- 196,656
6. Fanny Hanras - Indigo du Dycal - 65,125 - 63,429 - 65,300 --- 193,854
7. Karolina Tornqvist - Warengo - 64,063 - 64,929 - 64,000 --- 192,992
8. Caroline Osmont - Lovedamour - 62,875 - 65,571 - 63,850 --- 192,296
9. Elsa Maulet - Wig Wam - 62,250 - 63,714 - 65,000 --- 190,964
10. Emilie Guillon - Kasia des Bruyeres - 64,875 - 64,286 - 60,550 --- 189,711
11. Sixtine Gilliot - Amerigo - 63,688 - 62,429 - 63,500 --- 189,617
12. Constance De Girard - Lustig St Ferreol - 58,813 - 59,000 - 56,900 --- 174,713
13. Aurelia Briain - Tycoon - 56,313 - 60,286 - DNS - 116,599
Junior Riders
1. Jessica Hel - Minos de Maziere - 67,405 - 69,368 - 72,100 --- 208,873
2. Alix van den Berghe - Othello - 68,595 - 70,158 - 68,900 --- 207,653
3. Ninon Vandenabeele - Rakino - 65,351 - 68,947 - 69,650 --- 203,948
4. Charlotte Catry - Why Not - 66,108 - 65,895 - 69,800 --- 201,803
5. Milena Aubry - Dream Girl - 65,459 - 66,211 - 65,950 --- 197,620
6. Baptiste Michaud - Jupiter Grandbois - 62,270 - 65,737 - 66,600 --- 194,607
7. Lisa Kloninger Chachaty - Jumbey de Boissy - 63,243 - 62,316 - 62,500 --- 188,059
8. Nevine Chatila - Sirocco D - 60,973 - 56,368 - 59,400 --- 176,741
9. Manuela Osmont - Urbanus Sent - 63,895 - 63,900 - RET - 127,795
Young Riders
1 Camille Judet Cheret - Mister Grand Champ - 66,053 - 67,632 - 69,900 --- 203,585
2. Pauline Leclerq - Khallgazel du Maupas - 65,211 - 66,158 - 68,650 --- 200,019
3. Claire Richard - Ornament P - 64,895 - 64,632 - 67,150 --- 196,677
4. Alexandre Fluet - Hannibal de Bonce - 64,632 - 63,842 - 67,100 --- 195,574
5. Alix Faujour - Casandro - 62,526 - 63,263 - 67,550 --- 193,339
6. Mathilde Catry - Qibana van de Helle - 61,000 - 62,579 - 66,100 --- 189,679
7. Lea Grange - Habanera de Bussy - 60,368 - 59,053 - 62,050 --- 181,471
Related Links
Marc Boblet, 2008 French Dressage Champion
Jessica Michel, Triple French Champion with Prime Time, Noble Dream, Riwera
Karen Tebar, 2006 French Dressage Champion
Hubert Perring, 2005 French Dressage Champion