2009 Young Riders World Cup Finals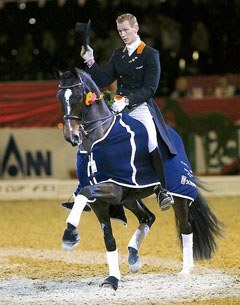 The Dutch Equestrian Federation is sending Diederik van Silfhout and Lotje Schoots to the 2009 FEI Young Rider World Cup at the CDI-W Frankfurt in Germany, on 17-20 December 2009.
Diederik van Silfhout automatically qualified for this event as he is the 2008 title defender. Dutch European championship gold medallist Lotje Schoots has been invited based on her outstanding international performances in 2009.
Both Schoots and Van Silfhout are 21-years old and in their final year as young rider. Van Silfhout won the World Cup final last year on Ruby, but he will be taking his second horse Davidoff to Frankfurt this year. Ruby suffered a severe colic attack a few weeks ago and was operated on.
"Ruby is back in our stable since Monday after having been operated on at the clinic in Utrecht," said Van Silfhout. "Ruby is hand walked 4 times a day. She's is looking good and it is like nothing has happened."
Back to the 2010 World Cup index