2009 Global Dressage Forum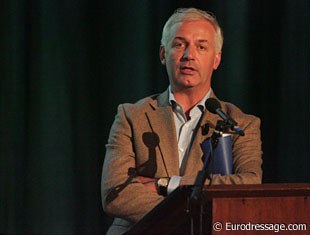 The forum came to a close with a final class featuring German trainer Ton de Ridder and three of his students Geertje Hesse, Max Wadenspanner and Marion Engelen. The subject of this session was the preparation for dressage tests.
Dutch born Ton de Ridder introduced himself first. He was very frank and open about his influences which were mainly Dutch: Irene Wagemakers-Jansen, Jo Willems, and Henk van Bergen. "Henk was a Dutch Olympic rider in Munich and he inspired me to be involved with Olympic riders." Ton also mentioned names such as Diederik Wigmans, Joep and Tineke Bartels. "These are all people who gave me the spirit to become professional." De Ridder has been living in Aachen, Germany for thirty years. "But I still love the colour orange," he quipped.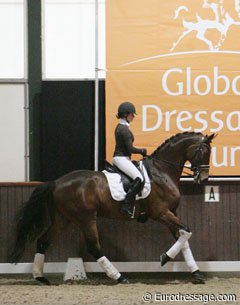 De Ridder is best known as the trainer of his wife, German Olympian Alexandre Simons-De Ridder and Japanese Olympian Hiroshi Hoketsu. Ton initiated his session with a powerpoint presentation of a student and trainer profile. What do you have to look for, what do you have to incorporate? Through anecdotes De Ridder referred to his own experiences and lessons learnt over the years. "A horse is a living create, but you have to ask yourself, does the student want to be there for a life creature," he questioned.
A good trainer needs to know what to expect from a certain horse. "Not every horse is a professor. They can be good at Prix St Georges but bad at Grand Prix. I say, 'let a horse be a horse'," De Ridder exclaimed. A good trainer realises when he's wrong and when to take a step back. "I experienced it with my own daughter (Jill de Ridder). She changed school, has more home work to do." A good trainer learns to open up to others: a mental trainer, vet, farrier, colleagues and accepts new ideas.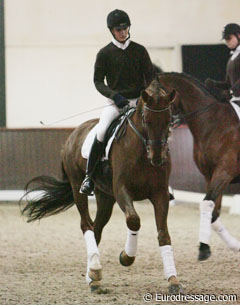 "A trainer is a friend, he needs to get respect and trust from his students," was De Ridder final statement before his first two students Hesse and Wadenspanner entered the ring. Through question and answer De Ridder revealed his work ethics. He made Hesse, Wadenspanner and Engelen show various movements and then asked the audience what was wrong with it. He stressed the importance of riding the exact same lines during the warm up as in the dressage test and only do flying changes on the spots where it is also asked for in the test. This eye for detail and punctuation has to be trained. "In the warm up arena you need to have a plan," De Ridder stated.
The contrast with the style of Steffen Peters' masterclass was big. De Ridder taught in a very different way: he addressed his students much more directly and firmly. During a walk break he would not allow small talk between the riders. He asked himself openly, "have I made big mistakes in my training?" His answer was yes of course. "I have asked too much, been too strong or too early with my students and horses," he admitted. He also said that he is now stimulating his young riders to make the transition to Grand Prix much sooner. "Let young riders play with the Intermediaire II and Grand Prix. Otherwise it's like they are crossing the Alps."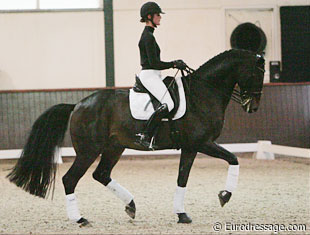 Enter Marion Engelen, one of Germany's young talents and winner of the 2008 Piaff Forderpreis, a special circuit for rising Grand Prix riders. In a more authoritative and patronising way, he was commanding Engelen to do pirouettes on the centerline instead of anywhere else in the arena. "For the horse it is now not necessary to do flying changes or counter canter."
During the panel discussion, De Ridder complimented the Dutch system for training judges because to him there is an open discussion between judges and trainers. "Inexperienced judges forget to look at the whole picture in a walk pirouette. They only look at the legs and not at the flexion, bend, mouth."
Text and photos copyrighted Astrid Appels/Eurodressage.com
No Reproduction allowed without explicit permission