Hanoverian Breeding News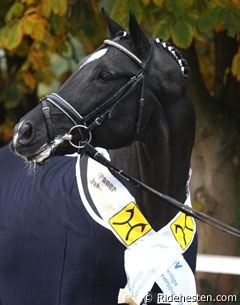 Celle state stud stallion Escudo I (by Espri x Arkansas) has been proclaimed Hanoverian Stallion of the Year 2009. On behalf of the deceased breeder Allmer Knoop, Arno and Sabine Knoop were awarded a fairly remunerative check
and the Wohlklang-statue. Every year, the Hanoverian Society and R+V/VTV insurance company honour important stud stallions with this award.
The pleasing black stallion with the keen eye was born on Allmer Knoop's farm on May 23, 1991. Heinz Katt from Bremervoerde raised Escudo I and presented him at the Stallion Licensing in Verden in 1993 where he already displayed his talent. He accomplished the jumps like a rubber ball and was one of the Lot I-stallions that moved to the Celle State Stud. One year later, he was the celebrated champion at the stallion performance test in Adelheidsdorf. He outpaced the competition with a final show jumping score of 144.9 points and was honoured with the Freiherr von Stenglin-Prize as best stallion of his age-group. Since that time, he is registered with the Hanoverian Jumper Breeding Program.
Farmer Allmer Knoop purchased Escudo's dam, state premium mare Athene by Arkansas/Woermann, at the age of two. She derives from the dam line of Notrada that originated in 1899 on the breeding site of the Battelmann-family in Nesse. The bay mare with the captivating type was very successful at shows, among them at the Louis Wiegels-Show. Escudo's one year younger full brother Escudo II was the extraordinary winner at the Stallion Licensing in 1994. The one year elder Erik (Florian Meyer zu Hartum) won advanced level jumper classes. Following the death of the breeder, son Arno and daughter-in-law Sabine continued the breeding business. State premium mare Erle by Espri and her daughter Cordy by Contendro are still active brood mares.
Apart from his breeding career, Escudo I was also a successful competition horse. He won the Hanoverian Show Jumping Championships on Dobrock under Joachim Winter in 1996, and he became Vice Bundeschampion in Warendorf, followed by various successes up to advanced level. Escudo I passes on his incredible show jumping scope and brilliant type to his offspring. His sons Enorm (Ludger Beerbaum) and Escobar (Thomas Weinberg) are as successful at international level as El Paso (Jessica Kuerten, Markus Beerbaum), the Bundeschampion of five-year-old show jumping horses in 2003. Escudo I has been one of the best German stallions on the breed value rankings for years. His offspring in show jumping sport contribute to his currently excellent breed value of 151 points, his daughters and sons in the Hanoverian breed value estimation to a mark of 147 points for show jumping and 145 for riding horse points and type. 306 Escudo I-daughters are registered with the Hanoverian Society, 83 of them were awarded state premium mare. 89 foals and 67 riding horses were sold at the Verden auctions. 15 of his 25 licensed sons are currently registered with the Hanoverian Stallion Book I. The Celle state stud stallions Earl and El Bundy won their stallion performance tests, just like their sire, ad Embassy is one of the most popular Hanoverian show jumping stallions.
Escudo I continues the old Hanoverian E-bloodline with his prepotency, and he was of tremendous importance for the modern jumper horse breed. "He sires excellently fighting progeny with lots of show jumping scope," the manager of the Celle National State Stud, Dr. Axel Brockmann, says.
Related Links
De Niro, Hanoverian Stallion of the Year 2008
Stakkato, Hanoverian Stallion of the Year 2007
Lauries Crusador xx, Hanoverian Stallion of the Year 2006 
Argentinus, Hanoverian Stallion of the Year 2005
Graf Grannus, Hanoverian Stallion of the Year 2004
Brentano II, Hanoverian Stallion of the Year 2003 
Warkant, Hanoverian Stallion of the Year 2002 
Drosselklang II, Hannoverian Stallion of the Year 2001
For Pleasure, Hanoverian Stallion of the Year 2000
Eiger I, Hanoverian Stallion of the Year 1999 
Weltmeyer, Hanoverian Stallion of the Year 1998
World Cup I, Hanoverian Stallion of the Year 1997, Passed Away