2009 CDI-W Odense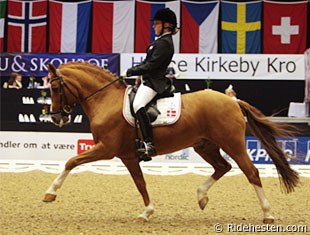 Danish team riders Rikke Lindberg and Cathrine Dufour ensured Danish victories in the FEI Pony freestyle and Junior Riders freestyle at the 2009 CDI-W Odense in Denmark. Lindberg and her Brooklands Moonwalker wowed the judges in the final of the Pony Masters while Cathrine Dufour had a sweeping victory on Cadillac.
Rikke Lindberg, who is in her final year at pony level, and her 17-year old impressive pony stallion Brooklands Moonwalker (by Magnum x Lombard) shone in the Pony Masters in Odense. With a total result of 74.15 percent the experienced pair won the freestyle. Riding to music, they produced a consistent test in which the extended trot was the highlight. Rikke Lindberg stated that she was especially pleased to have been able to maintain a good neck bend on Brooklands Moonwalker.
The Dutch Dana Van Lierop and Wengelo's Ricardo moved with elegance in the arena to Emilia's 'Big Big World' and Natalie Imbruglia's 'Torn,' the music of her number one pony Lord Champion. The dark bay Ricardo and Van Lierop scored 72.80 percent and placed second.
Anne Fabricius Tange and Tim finished third. Her choice of music included 'YMCA' by the Village People. The brisk music suited the combination well and the judges rewarded them with a total of 72.15%.
Cathrine Dufour Superior
Danish Junior Rider Champion Cathrine Dufour and the chestnut gelding Cadillac (by Oldtimer xx) proved to be superior in the junior rider classes at the JBK Horse Show. Dufour and Cadillac were rewarded with 75.45 percent from the judges for their freestyle, an impressive 5 percent more than the runner-up.
Nanna Skodborg Merrald and Millibar finished second with 70.80% while Dana Van Lierop and Shamrock placed third in the far distance with 65.65%. The class only had four competing riders as two did not turn up.
Photo copyrighted: Ridehesten.com
Related Links
Scores - 2009 CDI-W Odense
Dufour and Neverman Torup Win 2009 Danish Youth Riders Championships 
Skodborg Merrald, Tange, Dufour and Kasprzak Win 2008 ECCO Cup Finals