What's Happening in the Dressage World?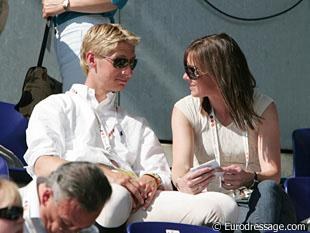 Boxing champion, humanitarian and global icon Muhammad Ali will make a special appearance at the Alltech World Equestrian Games Gala Night taking place on the evening of Friday 28th Augustduring the 2009 European Jumping and Dressage Championships 2009 at Windsor Castle, United Kingdom (25th - 30th August 2009). Ali hopes his trip will raise awareness for the recently founded Alltech-Muhammad Ali Center Global Education and Charitable Fund. The Fund, which was announced in May of this year during Alltech's International Animal Health and Nutrition Symposium, aims to produce, promote and support the educational and humanitarian goals and efforts of both institutions. The goals of the Fund are to provide leadership and character education; educational scholarships for arts; natural science and humanitarian endeavours; elementary school science laboratories; relief and support during world crises; and encouragement in the pursuit of excellence and personal greatness. Lonnie Ali and Muhammad are delighted to be visiting the UK and Ireland again to reconnect with old friends and to garner support for global charitable causes that are important to them.
Swedish Olympic team rider Patrik Kittel and his gorgeous Australian girlfriend,Lyndal Oatley, a successful international Grand Prix rider herself, have become engaged. Kittel proposed to Oatley right before the CDIO Aachen at the end of June 2009.
Austrian- American renowned dressage trainer Karl Milkolka has been admitted to the Beth Israel hospital in Boston for chemotherapy following the sad diagnosis that he has an aggressive form of non-hodgkins cancer. We wish him much strength and faith, as well as a speedy recovery!!
Swedish Junior Rider Elin Aspnas received a warning and fine from the FEI when a steward at the 2009 Nordic Baltic Championships discovered sand in the mouth of her horse Christo. It was Swedish FEI steward Jaana Alvesparrs, who carried out the bit check and discovered the sand in the horse's mouth. Aspnas got reprimanded with a warning and a fine and was allowed to continue the competition (Sand is an old-fashioned method against grinding). Tomas Torgersen, sport chef of the Swedish Equestrian Federation,takes this very earnestly. He told the Danish Equestrian magazine Ridehesten, "we take this very seriously. Junior riders team managers Anders Jonsson and Annica Westerberg have now decided not to take the rider to the European Championships nor any other team activity until we make a decision on it. I support this decision fully."Elin's mother Johanna explained the situation that Christo has been eating sand for a long time. "Her horse eats sand as soon as he gets the chance to and we have never heard that it is forbidden for a horse to have sand in his mouth. Now we know better. The horse's owner in Germany can back up that the horse has had sand in his mouth at many bit checks when he was riding international Grand Prix with him."
Sven Rothenberger has acquired one of the most successful and most promising FEI dressage horses in Sweden, Fleurie. The 9-year old black Hanoverian mare by Florestan x Akzent II will be Sönke's new junior rider's horse, while he is also having fun on Mauna Kea doing show jumping. Fleurie was the Swedish Young Horse Champion five years in a row (4 to 7 year old) and under Stefan Jansson she was the one to beat in Sweden.
Luxembourg FEI rider Joelle Kinnen-Beier retired her Grand Prix horse Petite Princeat the 2009 CDI Strassen. In Strassen, she rode one final small tour test with him (finishing 12th in the Prix St Georges with a 64,561%) and then he was retired. Petite Prince was untacked, a special cooler was laid on him and he got some carrots. Petite Prince is a 16-year old Hanoverian gelding by Prince Thatch xx x Lanthan. He competed with Kinnen at the 2006 World Equestrian Games. Kinnen is a school teacher by profession andmarried show jumping rider Thomas Beier in July 2008. She moved from Bavaria back to Luxembourg in the summer of 2008. Petite Prince briefly stayed in Germany where he was shown by the 15-year old Lena Trüjen in the Bavarian Championchips. "In July, during our move to Luxembourg, I sent him out in the field to play with the little foals. In November we went back to work. He is really motivitated, I enjoy riding every day," Kinnen once told Eurodressage. Petite Prince has now been officially retired from a show career.
Anky's attraction to reining and the Western sport is growing to bigger proportions. Van Grunsven has a 6-year old Quarter Horse reining mount in her stable which is she is trying out for three months. If it clicks between the two, Van Grunsven will buy the horse. Anky is trying outWhizashiningwalla BB, owned by Cira Baeck of the renowned Eifel Gold Ranch in Belgium. The 6-year old palomino AQHA gelding is by Topsail Whiz. Baeck and Van Grunsven met each other at the reining demo held at the 2009 World Cup Finals in Las Vegas where Anky explained her reining intentions to Cira. With "Whiz" Baeck became the 2008 Maturity Non Pro Champion in Italy, the Non Pro European Affiliate Champion and the Derby Champion at the Rein O Mania.
Reining, Western Pleasure and Natural Horsemanship influences are being filtered into Anky's dressage stable. In one of the articles on Anky's website, groom Willeke was pictured handling Salinero in a Monty Roberts dually halter for more control over the horse on the ground. It's great to see an international Grand Prix rider combine training methods and handling techniques outside the dressage box! (Photo courtesy: Anky.nl)
Dutch Grand Prix rider Dominique Filion has broken her ankle falling off a horse. On July 21, Filion planne on showing A Touch of Class (Krack C x Tin Rocco) in the Pavo Cup in De Wolde. While she was mounting her horse, he got very tense and both horse and rider fell. Filion got back on, warmed up her horse and competed him, but the result wasn't so good. She then got off and was brought to the first aid office, who told her to go to the hospital. She got a big cast round her foot and lower leg for one week and then will get a special cast for six weeks with which she can walk around.
David Stickland, who is doing mathematical analyses of dressage judging for the FEI and who will be a speaker at the 2009 Global Dressage Forum, once wrote to us: "Did you know that in 1912, the first time Dressage was in the Olympic Games, the test included jumps of about 1 meter and finished with the horse having to jump over a barrel rolling towards him! It says in the regulations "There will be no firing of guns or beating of drums"? Today's riders don't realize how easy they have it now."