2009 European Dressage Championships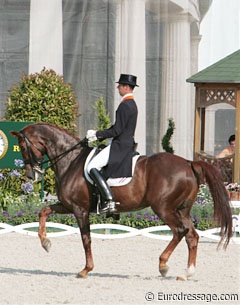 Dutch chef d'equipe and team trainer Sjef Janssen announced the team that will represent The Netherlands at the 2009 European Championships in Windsor, England, August 25-30, 2009.
The Dutch team includes
Anky van Grunsven - Salinero
Imke Schellekens Bartels - Sunrise
Adelinde Cornelissen - Parzival
Edward Gal - Totilas

Reserve: Hans Peter Minderhoud - Nadine
"This is probably the strongest team Holland has ever sent to a European Championships," Sjef Janssen commented. "There is so much potential in this team. I could have assembled two teams with medal chances."
Janssen also made clear his choice for Cornelissen instead of Minderhoud. "Directly after the Dutch championships in De Steeg, we decided to add Hickstead as third selection trial. With exception of Amsterdam, Cornelissen had shown that she made tremendous progress, which was unfortunately disrupted by an injury in Las Vegas. She was eager to take the chance of going to Hickstead. It's a bummer for Hans Peter Minderhoud. I have always been very happy about his dedication and constant value for the team and still am. He's always there in difficult times. I hope he'll accept this reserve position and stay in top form so that we can rely on him at every moment, because history has shown us that you can end up relying on the reserve."
Back to the 2009 European Dressage Championship index