2009 Bundeschampionate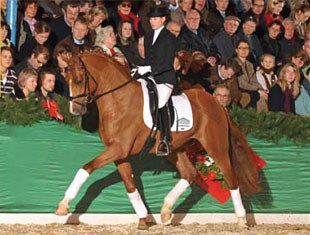 Two horses obtained an entry ticket for the 2009 Bundeschampionate in Warendorf following the regional qualifier in Neustadt/Dosse on July 17-19, 2009. Lehmann and Lord Fantastic, both 5-year olds, were the only horses that scored 8.0 or higher.
Falk Rosenbauer and the Hanoverian licensed stallion Lehmann (by Londonderry x Argentinus x Bolero) received the highest score from the judges, an 8.10. Christian Flamm, who is the head rider at the Neustadt/Dosse State Stud, finished second on Lord Fantastic, a Rhinelander branded Lord Loxley offspring, with 8.0.
In the 6-year old dressage horse division, Julia Voigtländer and the Trakehner bred Eichenblüte (by Ravel) surfaced at the top of the ranking with 7.9. Maik Kohlschmidt and Sweetest Poison (by Florestano) followed in clase distance with 7.8.
Results
5-year old Dressage Horses
1 Lehmann - Rosenbauer, Falk - 8.10
2 Lord Fantastic -  Flamm, Christian - 8.00
3 Dawinschy - Haupt, Alexandra - 7.60
4 Santana - Voß, Ralf -  7.20
5 Simsalabim - Winter-Polac, Karin -  7.10
6 So what - Kohlschmidt, Maik - 7.00
6 Sheherazade - Neuschulz, Matthias - 7.00
8 Waldessarini - Nowak, Udo - 6.90
8 Soulman  - Kohlschmidt, Maik - 6.90
8 Chico's Sir - Nowak, Udo -  6.90
11 Sambalina - Fiedler, Stephanie - 6.80
11 Lewitz - Volkmann, Roland - 6.80
13 Raffaello -  Herter, Mareen - 6.70
14 Her Highness Helena - Fallinski, Claudia - 6.60
15 Scharlatan - Wiegert, Marie-Louise - 6.50
16 Don Girovanni - Desender, Bart - 6.30
16 Royal Chanel - Grünwald, Stephanie - 6.30
6-year old Dressage Horses
1 Eichenblüte - Voigtländer, Julia - 7.90
2 Sweetest poison - Kohlschmidt, Maik - 7.80
3 Shantou - Stübig, Alexandra - 7.70
4 Lauries Nobilis - Voigtländer, Julia - 7.60
5 Prinzess - Feistkorn, Lena  -  7.50
5 Don Pedro -  Flamm, Christian -  7.00
5 Smart little Boy - Ibrahim, Tahani - 7.00
Fallersleben - Haupt, Alexandra - RET/DNS
Simply a white splash - Ibrahim, Tahani - DNS/RET
Donatello - Kendzierske, Mike - RET/DNS