2009 Bundeschampionate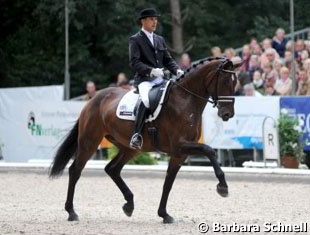 La Noire and La Stella reigned supreme in the Bundeschampionate qualification classes at the Aubenhausen Dressage Festival, June 26-28, 2009. Despite heavy rainfall and thunder storms during the competition, the quality of the performance remained considerably high.
Dorothee Schneider and her black mare La Noire won the 5-year old class with an 8.10 total score. Nicole Casper followed in second place with Birkhofs Denario (by Denaro x Fairplay) with 8.0 and in third place on Dave (by Denaro x Rehberg) with 7.9.
Professional dressage rider Rudolf Widmann won the 6-year old dressage horse division with his fantastically moving Holsteiner mare La Stella (by Locato x Loutano). He obtained an 8.3 total score from the judges. Benjamin Werndl, whose parents own the Aubenhausen equestrian centre, placed second on the Hanoverian gelding Renommee (by Rotspon x Laptop) with 7.5. Johanna von Fircks tied with her Hanoverian mare Fiorucci (by Friendship x Weltmeyer).
Photo copyrighted: Barbara Schnell
Results
5-year old Dressage Horses
1 La Noire - Schneider,Dorothee - 8.10
2 Birkhofs Denario - Casper,Nicole - 8.00
3 Dave - Casper,Nicole - 7.90
4 Für Immer - Boos,Christina - 7.60
5 Dundee - Geisenberger,Sarah - 7.40
6 Degas - Weeber,Bettina - 7.10
7 Schützenkönig - Kufner,Ursula - 7.00
8 Woycek - Gärtner,Markus - 6.90
9 Rodolfo - Stechele,Maximilian - 6.80
9 Pina Colada - Ullmann,Katharina - 6.80
6-year old Dressage Horses
1 La Stella - Widmann,Rudolf- 8.30
2. Renommee - Werndl,Benjamin - 7.50
2 Fiorucci - Fircks,Johanna von - 7.50
4 Luiazao - Rügheimer,Constanze - 7.30
4 Die Eine vF - Zeppke,Anna - 7.30
6 Danone II - Wahler,Theresa - 7.20
7 Danzaro - Waldvogel,Martin - 7.00
8 Montepiano II - Kempkes,Matthias - 6.90
8 Wildlife - Kirchhoff,Senta - 6.90
8 Fantastic - Krauspe,Andrea - 6.90
11 Lord of Lennox vF - Fircks,Johanna von - 6.70
12 Sir Alfred - Casper,Nicole - 6.50