2009 Bundeschampionate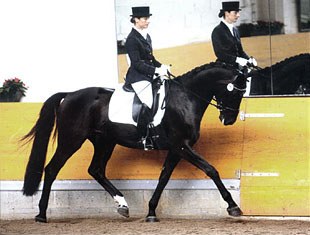 At the regional show in Kaarst-Büttgen, Divino and Fürst Fantasy became the winners of the 5 and 6-year old Dressage Horse tests, qualification classes for the 2009 Bundeschampionate in Warendorf. Three horses in total achieved the qualification score of 8.0 or higher to go to Warendorf.
The Hanoverian branded gelding Divino (by Donautanz x Hohenstein) won the 5-year old Dressage Horse class under his owner Vanessa Bentz. The black gelding scored 8.0. Lydia Camp and the Fidermark offspring Forbes finished second on 7.5. Max Wadenspanner and the Bavarian bred Percy (by Pasolongo) tied.
In the 6-year old Dressage Horse test, Jana Freund bested the field of three with the black Westfalian stallion Furst Fantasy (by Furst Heinrich). The combination achieved 8.1 and beat second placegetters Carlotta Soffing and her Rhinelander mare Femke (by Farewell II) with 0.1 point difference.
Results
5-year old Dressage Horses
1 Divino - Bentz, Vanessa - 8.00
2 Forbes - Camp, Lydia - 7.50
2 Percy - Wadenspanner, Max - 7.50
4 Sanubi - Nolden, Christine - 7.40
4 Sheraton - Schiergen, Heiner - 7.40
6 Decor Delatio - Rongen, Miranda - 7.20
6 Loxley - Wittmann, Stefanie - 7.20
8 Herzkönig - Siebertz-Lück, Ulrike - 7.10
9 Belvedere - Thomas, Felix - 6.90
10 White Valentino - Kluth, Detlef - 6.80
11 Lescard M - Sebastian, Kai-Mark - 5.90
11 Hadrian - Wenzel, Andrea - 5.90
Finnya - Camp, Katja - ELI
6-year old Dressage Horses
1 Fürst Fantasy - Freund, Jana - 8.10
2 Femke - Söffing, Carlotta - 8.00
3 Donna Carina - Schiergen, Heiner - 7.30